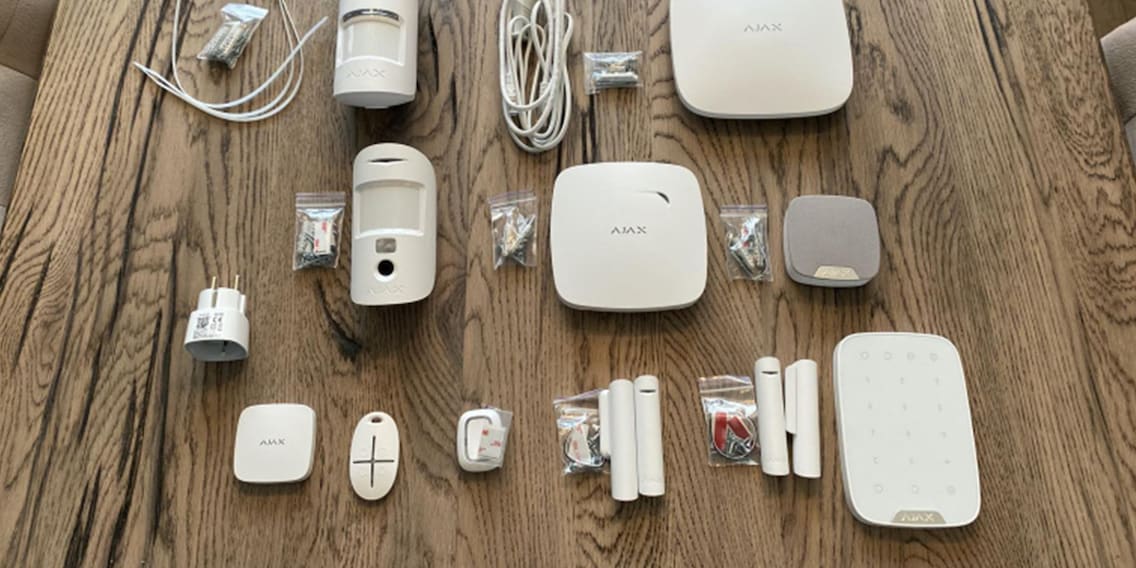 Ajax security products, in particular, add value to your smarthome. Image source: allhomecinema.com
Enter the smart home: part 11 – Ajax

Smart home products can automate your everyday life. And to help you navigate this jungle of providers, allow me to introduce you to the most common systems. This time we're looking at Ajax products.
These days, monitoring your belongings to protect them isn't just paranoia, but part of any well-equipped smart home. Emergency call buttons, window and door sensors, glass breakage and motion detectors as well as sirens provide additional security. Water and smoke detectors alert you to high water levels or excessive smoke. Smart home switches and remote controls can be assigned a range of commands to control not just lamps, but sun blinds or speakers too. Keypads enable you to control access to your home with your phone – whether you're letting in your postie, a neighbour or relatives. Ideally, you should choose a solution for your smart home system in which all products come from the same manufacturer. This way you avoid compatibility problems. The Ajax range includes devices for all the mentioned areas. After Homematic IP, Philips Hue, tado°, Netatmo, Devolo, Aqara, Eve Systems, Gigaset, Bosch and Somfy, part 11 in my smart home series looks at how Ajax can make your house a smart home.
Security in black and white
Ajax smart home products focus on indoor and outdoor home security. The system is based around a central hub, which is connected to a power supply and your router. So, Ajax will need a free slot in both. You set up and control the whole thing via the app, which is available for both iOS and Android. The hub manages all of the devices in your Ajax smart home, activates your alarm system at your command or notifies you via your phone when a sensor detects anything unusual. There are a number of different models: the Hub, the Hub Plus, the Hub 2 and the Hub 2 Plus. The differences lie in compatible devices, users, secure areas, scenarios, photo verification for alarms and communication channels. The more capabilities, the higher the price. Like all other Ajax products, the hubs come in either black or white. The design is super simple, discreet and modern.
The hubs work with two different wireless standards. One – Jeweller – is responsible for the two-way transfer of commands. Jeweller is an Ajax-developed system and should ensure seamless communication between devices. This should enable a distance of up to two kilometres – as yet unmatched by any other smart home system – along with remote system control and an alarm that sounds within 0.15 seconds. Devices connected to the hub are regularly synchronised via query intervals, authentication should prevent fraud attempts and encryption protects against data theft. The Jeweller protocol is so energy-efficient that – depending on device type and installation location – sensors, detectors and channels can run for four to seven years without needing new batteries. The second wireless protocol – Wings – is designed to transfer graphic data over longer distances. It ensures that photos from motion sensors with integrated cameras can be transferred to the hub over up to 1.7 kilometres, even if the signal is poor. Within a maximum of nine seconds, you will receive the image that was captured by the detector on your smartphone.
The hub can be connected to a wide range of other Ajax products. They're all wireless and battery-powered. The motion detectors – with or without a camera – recognise movement and sound the alarm on your smartphone or via an indoor or outdoor alarm. There's also an outdoor version of the motion detector without a camera. In addition, you can kit your smartphone out with Ajax smoke, water and glass breakage detectors to protect your belongings. The Ukrainian smart home manufacturer also makes door and window sensors. On top of that, you'll find an emergency call button, a remote control and a keypad in the Ajax range. Different sets also offer a straightforward first step into the smart home universe both when it comes to the number of devices and the setup process. If the Ajax Hub's range isn't enough for you, you can increase it with a repeater.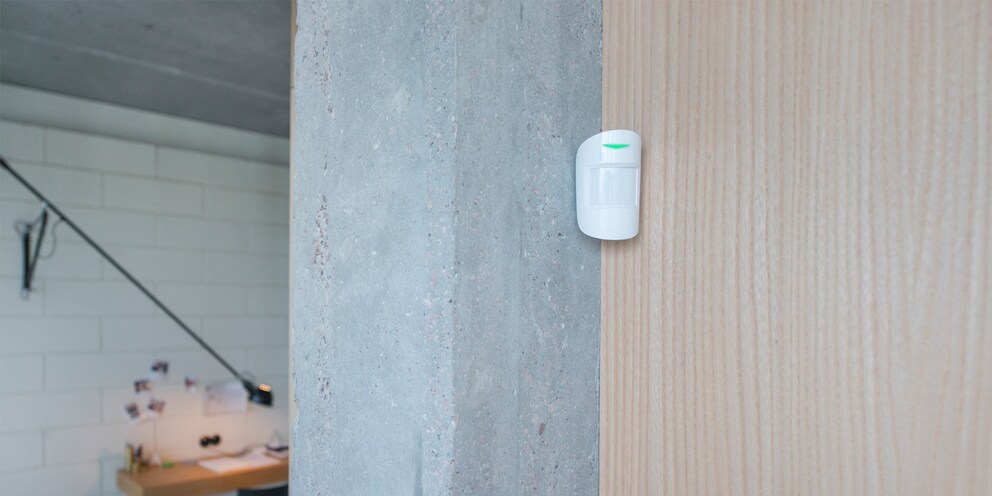 What you'll need
No Ajax product works without one of the four hubs. You need the hub so that the sensors can communicate and interact with each other. And each one needs a free slot in your router and one in your power supply. Adding more products is relatively quick and easy with the Ajax Security Systems app and thanks to the plug-and-play system. The apps tell you what products are in use at a glance, so you can react to any error messages, alarms, break-ins and photo evidence and create automated routines. You also have remote access to your smart home when you're out and about. Ajax products are currently compatible with neither Apple HomeKit, Google Assistant nor Amazon Alexa. However, the Ukrainian company is working at full speed to change this as soon as possible. You can vote for the new features you want on this page. However, I have experienced that products from the same manufacturer cause the least problems. As Ajax also offers a wide range of products, you're unlikely to have to look at other providers or products to set up a well-equipped smart home.
Although Ajax doesn't offer video cameras, there are motion detectors in the product range that have an integrated camera. When unfamiliar movement is detected, the camera takes multiple consecutive photos and transfers them to your smartphone within nine seconds before the siren kicks in. The photos are also transferred in encrypted form and – according to Ajax – will not be visible to the manufacturer at any time. The cameras ignore pets within up to 50 centimetres. The indoor and outdoor motion detectors without cameras work in exactly the same way. Except that they just send an alarm to your phone rather than photos. The indoor siren can play the alarm sound for three minutes at up to 105 dB as soon as the detector and hub – including your smartphone confirmation – send an alarm signal. Generally speaking, the outdoor siren works in the same way, but it's also protected against weather conditions and its volume reaches 113 dB. Both sirens also have an integrated LED that – besides its acoustic signal – makes it more noticeable.
Alongside a siren and the detection itself, the smoke detector also has a built-in temperature sensor that identifies sudden temperature rises. It can also be used as a standalone product without a corresponding Ajax hub. The more expensive Plus version also has a carbon dioxide sensor that alerts you to dangerous gas levels. The water detector has contact pairs on all four sides, which sound an immediate alarm when water is detected. At just 1.4 centimetres in length, it fits anywhere – under the sink or washing machine, in your boiler room, you name it. The glass breakage detector alerts you to break-ins and storm damage. It detects broken glass via an electret microphone which picks up the sounds of impact and falling pieces. Two-factor recognition prevents false alarms for things such as thunder, passing vehicles or dogs barking. The standard door and window sensors recognise open windows and doors, while the Plus version also picks up tilted windows – when side-mounted – or vibrations caused by break-in attempts. You can operate or programme routines for the switch, remote control and keypad via the app. The repeater helps the hub to extend the Ajax smart home's range.
Your smart home is safe with Ajax
Because all products communicate with each other via Jeweller or Wings radio technology, the devices not connected to a power supply don't use much battery. According to the manufacturer, the batteries in most sensors, detectors and switches last for at least four to seven years before needing to be replaced. They don't affect your Wi-Fi either. Ajax offers an extensive lineup of smart devices. The Ukrainian manufacturer's products cover every category, especially indoor and outdoor protection. The still-lacking compatibility with Apple HomeKit, Amazon Alexa and Google Assistant is a drawback. However, I think that will be changing soon, and compatibility with other smart home protocols such as Zigbee and Z-Wave is also set to be improved. Another negative aspect is the prices of many devices, which are even too high for an expensive segment such as the smart home market.
The digitec Galaxus community loves the system's impeccable operation – especially when it comes to sensor and detector accuracy. There are no false alarms, and the app interface impresses alongside the helpful updates that often bring additional functions. What's more: the support team is even ready and waiting on Sundays and public holidays. The high price, however, is less attractive. Although some customers praised the products' excellent workmanship and durability, the same people also thought that this didn't really justify such a big price tag. The lack of compatibility – which is being worked on, but the process is gradual and taking too long – is a major issue for a lot of users. However, the positive aspects outweigh this, and the Ajax smart home can more than keep up with the best home security brands.
Possible alternatives
Bosch, Eve Systems, Netatmo and Somfy all have door and window sensors, which you can opt for if the Ajax products aren't right for you. Devolo also has a motion detector. Price-wise, Eve Systems or Homematic IP are your most affordable options. Aside from immense range, Netatmo, Devolo and Eve offer more or less the same features to protect your belongings. If you're worried about water damage as well as break-ins, Bosch and Homematic IP for example have a water sensor that warns you in case of floods and informs you via your smartphone and a siren. However, since Homematic IP products require a bit more IT and electrical knowledge, I wouldn't recommend them to you, and I'd point you in the direction of Bosch or Somfy if you're flirting with a simple plug-and-play solution such as Ajax.
If you're looking for a thermostat alternative, I'd recommend the Bosch or Somfy models. Products from tado°, Netatmo, Devolo or Homematic IP are also potential fallback options. As an alternative to the Ajax window and door contacts, I can recommend those from Eve Systems or Homematic IP. Somfy products also impress in this respect. The Homematic IP sensors are a bit bigger and flashier, but offer the same protection for a lower price and can be embedded in the expandable Homematic smart home universe. When it comes to camera alternatives or smart security cameras, you can't go wrong with Gigaset, Somfy or Netatmo.
For safety fans and plug-and-play aficionados
Ajax smart home products impress with an incredibly wide range – especially in home security – simple plug-and-play operation, unusually long battery life and extensive reach. Thanks to wireless sensors, detectors, switches and remote controls, no cables or electrical knowhow are required. With Ajax devices, you can make monitoring your home smarter – from movements to smoke, water and glass breakage. This is where the Ukrainian firm comes into its own with a range of alarm and warning products. Nothing works without one of the four hubs – and the more they can do, the more expensive they are. The app is intuitive, logically structured and runs smoothly. The apps add additional products to your existing smart home, and thanks to the plug-and-play system, it's incredibly easy. If you're an electronics pro and like to tinker with your system, I recommend Homematic, for example. However, if you're looking for a stylish, high quality beginner's smart home solution that's easy to install and protects your belongings – albeit at a price – Ajax is the right option for you.
Homematic IP offers an easy entry into the smart home universe. It's even easier to work with Philips Hue, where the focus is on lighting. tado° plays to its strengths with smart heating systems. Netatmo products monitor everything in and around your home. Devolo offers powerful network products in addition to an extensive assortment. With Aqara, you can rely on a Xiaomi subsidiary and a rather smaller player with inexpensive products. Eve Systems also relies on a manageable range, but still offers a suitable product for all important areas of your smart home. Gigaset boasts energy saving, compact, understated, affordable devices to make every room of your home smarter. Bosch impresses with a manageable range, simple plug-and-play setup and visually appealing products. Somfy is a particularly serious contender when it comes to smart home security, boasting a small but mighty offering. Finally, Ajax impresses with an extensive product range, elegant design, superior radio range and long battery lives.
| | Price | Range | Expandable | Beginner-friendly | User-friendly | Climate | Shutters | Home security | Lighting | Hazard detection | Amazon Alexa | Google Assistant | Apple Homekit |
| --- | --- | --- | --- | --- | --- | --- | --- | --- | --- | --- | --- | --- | --- |
| Homematic IP | ++ | ++++ | ++++ | ++ | ++ | ++ | +++ | + | - | ++ | ++++ | ++++ | ++++ |
| Philips Hue | + | ++ | ++ | +++ | ++++ | - | - | - | ++++ | - | ++++ | ++++ | ++++ |
| tado° | + | + | ++ | ++ | ++ | ++ | - | - | - | - | ++++ | ++++ | ++++ |
| Netatmo | ++ | ++ | ++ | +++ | +++ | ++++ | - | ++++ | + | +++ | - | - | ++++ |
| Devolo | +++ | +++ | ++++ | +++ | ++ | + | ++ | ++ | - | ++ | ++++ | ++++ | - |
| Aqara | ++++ | ++ | +++ | ++++ | ++ | + | - | +++ | - | ++++ | - | ++++ | ++++ |
| Eve Systems | + | ++ | +++ | ++++ | +++ | + | - | +++ | + | +++ | - | - | ++++ |
| Gigaset | +++ | +++ | +++ | ++++ | +++ | ++ | - | +++ | + | +++ | ++++ | ++++ | - |
| Bosch | + | ++ | +++ | +++ | ++ | ++ | - | + | - | ++ | ++++ | ++++ | ++++ |
| Somfy | + | ++ | ++++ | +++ | ++ | ++ | + | ++++ | + | + | ++++ | ++++ | ++++ |
| Ajax | + | ++++ | ++ | +++ | +++ | - | ++ | ++++ | - | ++++ | - | - | - |
You can choose which smart home manufacturer I take a closer look at in the next instalment. Write your suggestion in the comments section – the comment with the most likes wins. If you don't want to miss any smart home articles, follow me by clicking on the «Follow author» button on my profile.
Teaser image sources: swiss-sicherheitstechnik.ch and mst-berlin.de
---



When I'm not stuffing my face with sweets, you'll catch me running around in the gym hall. I'm a passionate floorball player and coach. On rainy days, I tinker with my homebuilt PCs, robots or other gadgets. Music is always my trusted companion. I also enjoy tackling hilly terrain on my road bike and criss-crossing the country on my cross-country skis. 
---
---
These articles might also interest you
Skeleton Loader

Skeleton Loader

Skeleton Loader

Skeleton Loader

Skeleton Loader

Skeleton Loader