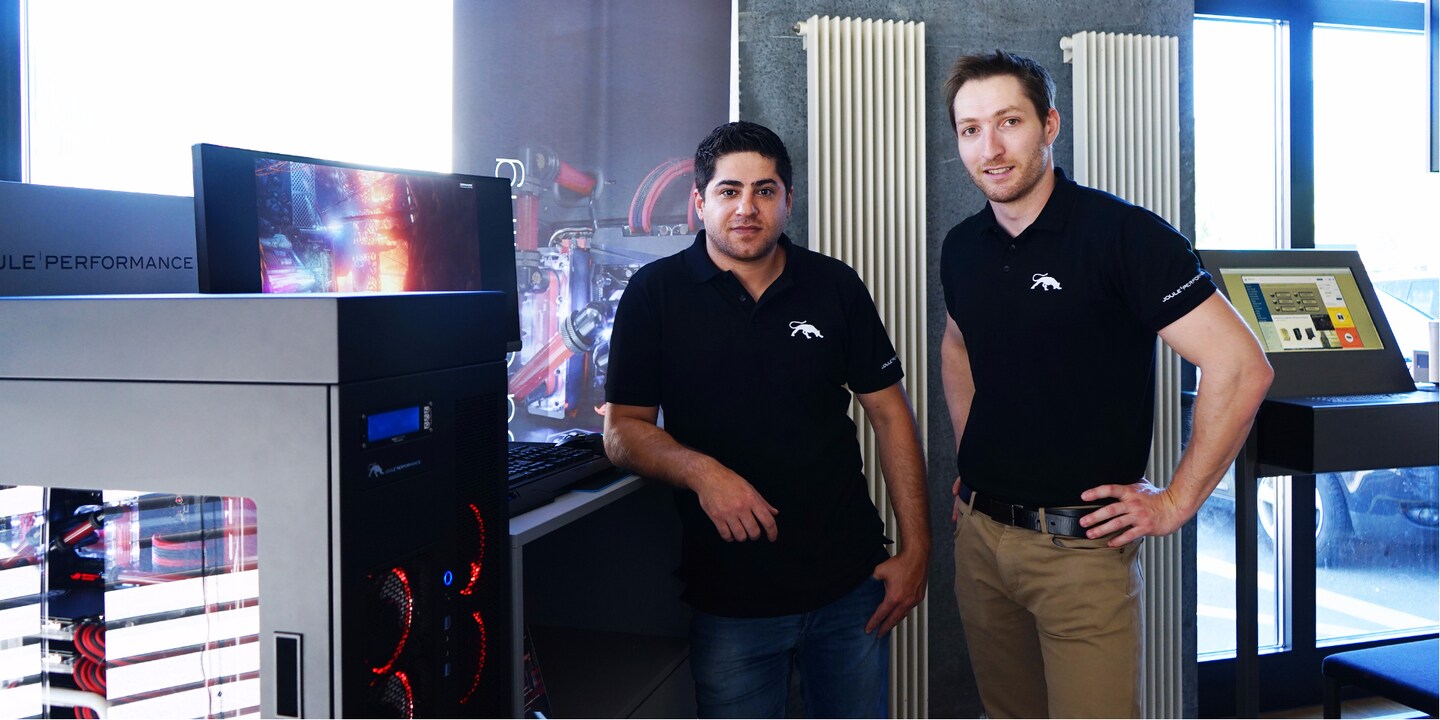 A PC for 14.000 francs? Srsly?

PC gamers are enthusiasts – the term "PC master race" kind of speaks for itself. But a 14.000-franc device will have even the biggest PC do-it-yourselfer turning green with envy. The Swiss company Littlebit Technology AG took the time to explain what's inside this high-end baby and what kind of people purchase this kind of computer.
Since early July, Switzerland's arguably most expensive purchasable PC has been gracing the digitec store in Zurich. It was created in Hünenberg in the canton of Zug. The company Littlebit Technology AG, the people behind Joule Performance, is specialised in absolute high-end systems for the demanding gamer. Their crown jewel is the Craft 1 – available for a staggering 14.000 francs.
The Littlebit team is made up of hardware enthusiasts and hobbyists such as Hiva, who, since 2003, has received several awards for his overclocking records. Together with marketing director Philipp Krähenbühl, he put the Craft 1 into operation in Zurich – under the gaze of digitec employees and curious customers. While the monster was busy destroying one graphics benchmark after another without batting a fan, Philipp explained to me, why it's worth investing in this mega PC.
How did you come up with the idea to build such an insane PC?
Philipp Krähenbühl: Switzerland is a high-end nation. So we took a closer look at what is available in the gaming sector and what isn't. It soon dawned on us that nobody in Switzerland manufactures this type of system – customised, SLI, with several SSDs, water-cooled, overclocking, unique cases. We want to change this.
Is Switzerland a nation of hardware freaks?
I would say that the Swiss have a soft spot for hardware. A good example for this is that, on average, people in Switzerland spend around 100 Euros more for a graphics card than people in Germany. It can therefore be concluded that the former are also prepared to pay more for a complete system. Although our products are not in the same segment, it can be said that there are people out there who drive Porsches and for whom money is simply not that much of an issue. Some people just want the absolute best – something special that nobody else has.
What's your target group?
Thirty-somethings who have a decent salary and started gaming when they were younger but still enjoy it to this day. People who are not necessarily techies but don't want to miss out on a wicked system. That pretty much describes our main target group. We don't want to rule anybody out but in the end, it does boil down to the price.
So gaming oil sheikhs?
(Laughs). Yes, something like that.
Have you always been PC do-it-yourselfers?
Definitely. But as a hobby, not professionally. I've been dabbling with hardware for 20 years and have always built my own PCs – and even water-cooled systems. As we all work in component distribution and are in close contact with manufacturers, our business idea was the logical consequence. There's a lot of support and interest from manufacturers as they naturally want their components to be installed.
Speaking of components; they tend to be a bit tricky. How do you tune them to avoid complications?
It's not like you can just buy the best and most expensive components online and then simply throw them together. What we do is relentlessly test all kinds of combinations. That way we find out what works best and where we can coax out a little more performance. We need to evaluate each and every system. Only when it runs perfectly, does it go into production.
In other words, you rely on experience. Nonetheless, internet users are bound to give you a lot of input on what you could've done better.
Experience is the be all and end all. Anybody with a bit of know-how will find room for improvement. However, you have to keep in mind that the system may not have been tested in that particular configuration and might not necessarily work. There are always things that could be changed. We never said we were perfect but we try to get as close as possible.
What added value do your machines have?
The Craft 1 system you're looking at right now is completely custom-made. In other words, the water-cooling system is all hand-bent. The cooling cycle was designed by us, i.e. we decided where the tubes are placed, where the holes are drilled, etc. People who have the skills to do that themselves might not need us but I think the majority of us does not have that kind of know-how.
And the steep price includes direct support, right?
Exactly. We don't just focus on hardware but also on warranty. Craft 1 comes with a three-year on-site warranty plus remote maintenance, if required. This enables us to observe the hardware and check if everything is working the way it should. If a problem arises, we can promptly react. This service is very important to us. It's also a chance for us to put a face to our name.
Your 14.000-franc monster is currently on show at our store. Can it handle everything or are there limits?
There are limits but I would like to add that this model is not our fastest one. Here, we installed three GTX 980 TI. For our new system, we used two GTX 1080. This system here reaches its limits if you hook up three 4K monitors and try to play "The Division" on it. The model with the new graphics cards will be tested next week to see how far we can push it. It should have enough power to handle two to three 4K monitors. Naturally, the games should be made for that kind of use but unfortunately, that's usually not the case.
I'm guessing you don't all have this kind of system at home. Do you always fight over who gets to test the latest device?
Totally. No, none of us have a baby like this at home. There's no way we could afford it – unfortunately. But we do have to test whatever we've assembled – for the customers benefit at the very least.
How long does it take you to assemble a system like this?
Once it's been designed and we know how we want to assemble it, something like the Craft 1 takes around 14 hours to finish. Craft 2 and 3 take a little less time but at least eight hours. It's time-consuming work. You can't just plug in a graphics card and go. To give you an example: The cables have to be heated with a hot air blower before they are bent into shape. This sometimes goes wrong and costs an extra half hour.
What advice would you give people who would rather assemble their PCs themselves?
Read reports by users who are using the hardware you would like to purchase. At the end of the day, nothing beats testing. However, it must be said that hardware always works together. It just depends what you want to achieve. If you are looking to overclock and push your device to the limit, that's where compatibility problems start.
These are the three super PCs at bargain prices
---

Being the game and gadget geek that I am, working at digitec and Galaxus makes me feel like a kid in a candy shop – but it does take its toll on my wallet. I enjoy tinkering with my PC in Tim Taylor fashion and talking about games on my podcast http://www.onemorelevel.ch. To satisfy my need for speed, I get on my full suspension mountain bike and set out to find some nice trails. My thirst for culture is quenched by deep conversations over a couple of cold ones at the mostly frustrating games of FC Winterthur.
---
These articles might also interest you
Skeleton Loader

Skeleton Loader

Skeleton Loader

Skeleton Loader

Skeleton Loader

Skeleton Loader