Top-rated products in the Tools + Utilities (Download) category
Here's a ranking of the top rated products in this category. To give you a quick overview, we've also added some key information about the products.
1. Magix PC Check Tuning 2020
PC Check & Tuning now finds duplicate files, such as photos, music or video files, on your hard drive and displays them clearly. So you can easily keep track and avoid unnecessary data garbage on your computer. Create more space on your hard drive: Many programs leave temporary files behind when they are used. PC Check & Tuning recognizes these and displays them for you to delete. PC Check & Tuning optimizes Windows' power options for you, so you'll use less power right away. You won't feel any loss of processing power. How many pictures, videos, and audio files do you have on your computer? PC Check & Tuning helps you find and eliminate the biggest space wasters.

How powerful is your PC? Find out - with the performance check from PC Check & Tuning. Find out everything about the performance and weaknesses of your computer - because only those who know their computer can get the best out of it. Services are programs that are started when the PC boots up. Speed up the startup process by simply disabling services that are not needed. PC Check & Tuning helps you to identify them. Use your capacities properly: Adjust your Windows operating system to your individual needs. An optimal configuration of the system leads to a noticeable increase in performance. In high-speed mode, PC Check & Tuning prioritizes which programs need the most power. For example, you can speed up your multimedia software while power is reduced for less important processes.

Even after optimizing your computer, PC Check & Tuning remains alert. Thanks to the autopilot running in the background, errors can be detected and corrected in real time. This prevents problems from occurring in the first place and your PC is permanently protected. With PC Check & Tuning you can find unnecessary or even harmful software installed on your PC. By uninstalling it, you create space, increase security and speed up your computer within a very short time. Are your deleted files really securely destroyed? PC Check & Tuning scans your PC for deleted files that are recoverable and reliably destroys them. On the other hand, you can also recover accidentally deleted files. Optimum security and stability can only be guaranteed if the programs on your PC are up-to-date. PC Check & Tuning automatically checks for updates for every software on your computer and installs them for you. Protect your privacy by deleting temporary Internet files, cookies and your browser history. This will help you to cover your tracks on the World Wide Web and avoid, for example, that companies can identify you for advertising purposes.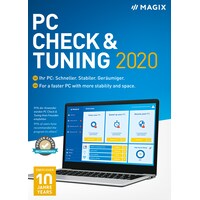 2. Parallels Desktop 18
Parallels Desktop for Mac is a fast, easy and powerful way to run Windows on an Intel or Apple Mac - without rebooting. Seamlessly switch between Mac and Windows apps. Run Windows apps alongside your macOS apps or use the familiar Windows desktop - all with the familiar look and feel of macOS. Powerful 3D performance supports the most demanding graphical applications and a wide range of operating systems, including Windows and many Linux distributions. Parallels Toolbox includes over 40 handy tools to make your workday easier: record your screen, clean up your drive, take screenshots or download a video - all with a single click. No wonder Parallels is the best choice for millions of Mac users. 
3. Parallels Desktop 18 Pro
Parallels Desktop for Mac Pro Edition is a fast, easy and powerful application for running Windows on the Mac for developers, designers, engineers, testers and experienced power users. Use your Intel or Apple Mac to run Windows applications in a virtual machine, or develop and test your app or website on dozens of different operating systems. With outstanding performance, even applications like AutoCAD and Visual Studio run lightning fast and smoothly. Enjoy nested virtualisation, VM templates, linked clones and the ability to manage your virtual machines through a command line interface. Parallels Toolbox includes over 40 tools to simplify everyday tasks.