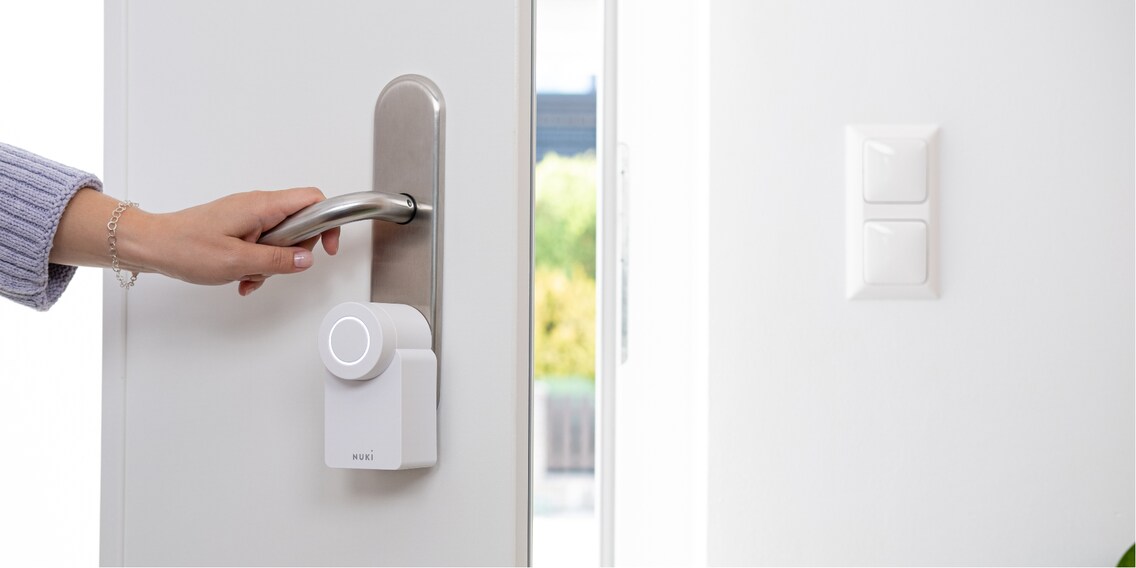 This article is not yet available in your selected language.
Nuki Smart Lock 3.0: Der optimierte Nachfolger des beliebten Türschlosses ist jetzt erhältlich
Nuki ist über die Bücher gegangen und hat das Smart Lock 3.0 lanciert. Es kommt in einem schlichten, weissen Design daher und steht dem beliebten Vorgänger in nichts nach. Auch bei der neuen Version, können wir euch praktische Sets mit Bridge oder Keypad anbieten.
Die Anpassungen beim Smart Lock 3.0
Das neue Smart Lock 3.0 von Nuki setzt auf das Design- und Funktionskonzept des Vorgängers und ist weiterhin flexibel erweiterbar. Neu wurde eine farbige LED-Anzeige verbaut, welche sich bei einem Fehler oder bei niedrigem Batteriestand entsprechend verfärbt. Zudem ist das Smart Lock 3.0 mit dem neuen Door Sensor kompatibel, welcher dich über die Nuki-App bei jeder Öffnung deiner Haustüre informiert. So hast du von überall unterwegs die Sicherheit, dass deine Türe richtig geschlossen ist. Darüber hinaus wurde gemäss Hersteller die Motorik des Türschlosses weiter verbessert.
Das neue Smart Lock gibt es wiederum in zwei verschiedenen Zylinder-Versionen. Achte vor dem Kauf unbedingt darauf, welche Art von Zylinder du in deinem Türschloss verbaut hast. Die meisten Türschlösser in der Schweiz haben einen CH-Zylinder.
Smart Lock 3.0 Combo
In Kombination mit der dazugehörigen Bridge erhältst du vollen Online-Zugriff auf dein Smartlock und kannst dieses von überall und jederzeit via Nuki-App bedienen.
Smart Lock 3.0 Sets
Das neue Smart Lock 3.0 von Nuki gibt es ebenfalls in den beliebten Sets mit Keypad oder mit Bridge und Keypad. Dazu das Apartment-Set mit dem Nuki Opener.
Passendes Zubehör
Für die Erweiterung deines intelligenten Zutrittsystems, gibt es diverse Möglichkeiten. So kannst du mit dem Türsensor überwachen, ob deine Türe korrekt geschlossen ist, oder ob sich jemand gerade Zutritt zu deinem Zuhause verschafft. Falls du in einem Mehrfamilienhaus wohnst, kannst du mit dem Nuki Opener die Haupteingangstüre betätigen. Und für die, welche noch mehr Komfort wollen, funktioniert das Nuki-Türschloss neu auch mit dem Ekey Fingerabdruck-Sensor.
---
When I'm not working on my DIY projects, I'm probably chasing after a small, fast ball on a tennis court or in a gym hall. Once I've let off enough steam, I love soaking up the sun and discovering the wide world.
---
---
---
These articles might also interest you
Skeleton Loader

Skeleton Loader

Skeleton Loader

Skeleton Loader

Skeleton Loader

Skeleton Loader