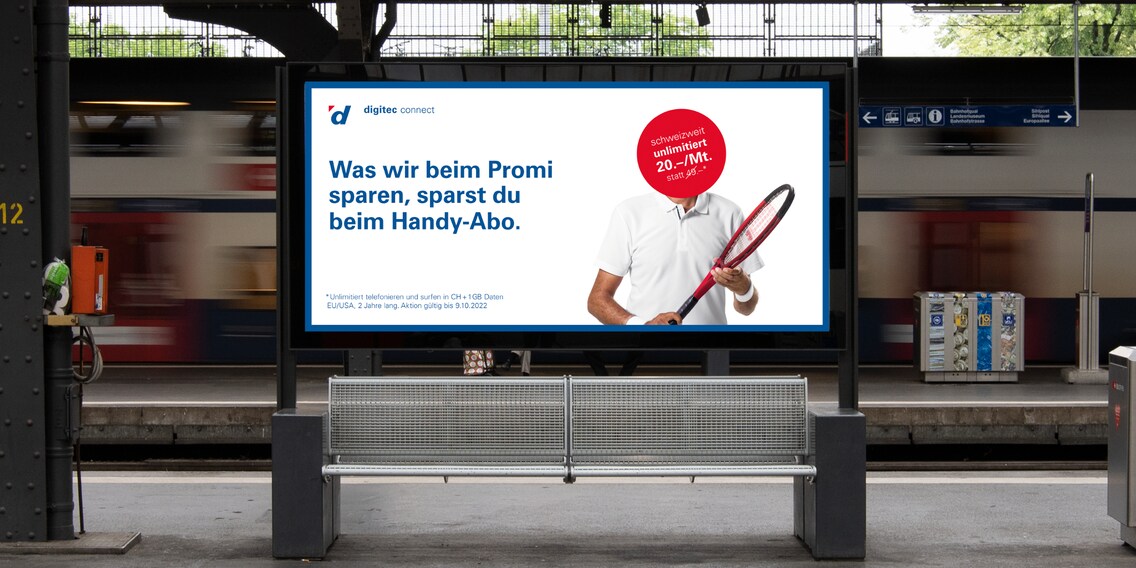 This article was translated automatically.
What we save on the celebrity, you save on the mobile phone subscription.
Take advantage of the special price now and pay only 20 instead of 49 per month for two years for unlimited surfing and phoning in Switzerland. Includes 1 GB roaming data EU/USA per month. The offer is valid for new and existing customers up to and including 9 October 2022.
You are not yet a digitec connect customer? Then now is a good time to switch your mobile phone subscription to digitec connect. If you take out the subscription by 9 October 2022, you will automatically benefit from the discounted price of 20 per month for the first two years. >
What does our digitec connect mobile phone subscription offer at a special price?
24 months 20.- instead of 49.-
Monthly unlimited data in Switzerland included .- Monthly 1 GB roaming data in the EU/USA included .- Unlimited calls and SMS/MMS to all Swiss networks included (excl. value-added services)
First MultiSIM option free of charge in the first year .- 5G option can be added for 8.- per month
No minimum contract period and activation fees .- Use the Family + Friends Option
On the Sunrise network
How do I get the offer as a new customer?
Register at connect.digitec.ch and take out your subscription in just a few steps .- You can have a new phone number or we can port your existing phone number to digitec connect. We will take care of the cancellation with your previous provider.
As soon as your subscription is active, you automatically benefit from 2 years of unlimited surfing and phone calls for 20.- per month.
Add more members until 9 October 2022 via the Family + Friends option and all benefit from the promotional price.
How do I benefit as an existing digitec connect customer?
Of course, existing customers always benefit from our promotions. Since you already have a subscription as an existing customer, you can simply buy one of the following vouchers and redeem it in your cockpit. As an existing customer, you can choose whether you want to buy a voucher for 1 year or 2 years.
How to redeem the promo code as an existing customer
. A few days after your purchase, you will receive your promo code by email. As soon as your subscription has started, you can redeem the promo code online in your Cockpit. It is not possible to deposit the code in advance. You will find the corresponding input window in the user profile area.
Good to know
Once your subscription has started, it does not matter when you redeem the promo code. From the time of redemption, the 12 or 24-month period for which you have already paid begins immediately. The subscription can be cancelled at any time at the end of the following month. However, there is no refund of the annual fee already paid. In addition, only 1 code of the same promotion can be redeemed per connection. Please note that there is no refund if we subsequently reduce the fees in question.
The digitec connect B2B mobile phone subscription
Do you have the digitec connect mobile phone subscription for corporate customers or are you interested in an offer for your company? Then get in touch with our digitec connect B2B team at connect.b2b@digitec.ch. Our team will be happy to show you the benefits in a personal meeting.
The voucher cannot be redeemed for company connections. However, if you benefit from your company's employee benefit, you too can buy the voucher and redeem it for your subscription. Here you can find all the information on the two models for B2B customers:
PromotionB2B

50% discount on digitec connect for corporate customers

New to our rangeSmartphone

Our digitec connect mobile subscription for business customers
Do you have any questions or suggestions for us? What do you think of digitec connect? Take part in the discussion with the community. Go here to digitec connect community discussion.
Never miss digitec connect news and promotions again!
Follow me as author and you will receive all news and promotions about digitec connect by email. It's worth it, because we are constantly developing our subscription and offer regular promotions, including for existing customers. <p
---
Almost anything can fascinate me, I'm always open to new experiences. That's why I'm in exactly the right place, discovering and exploring new and wonderful products and communities every single day.
---
---
These articles might also interest you
Skeleton Loader

Skeleton Loader

Skeleton Loader

Skeleton Loader

Skeleton Loader

Skeleton Loader