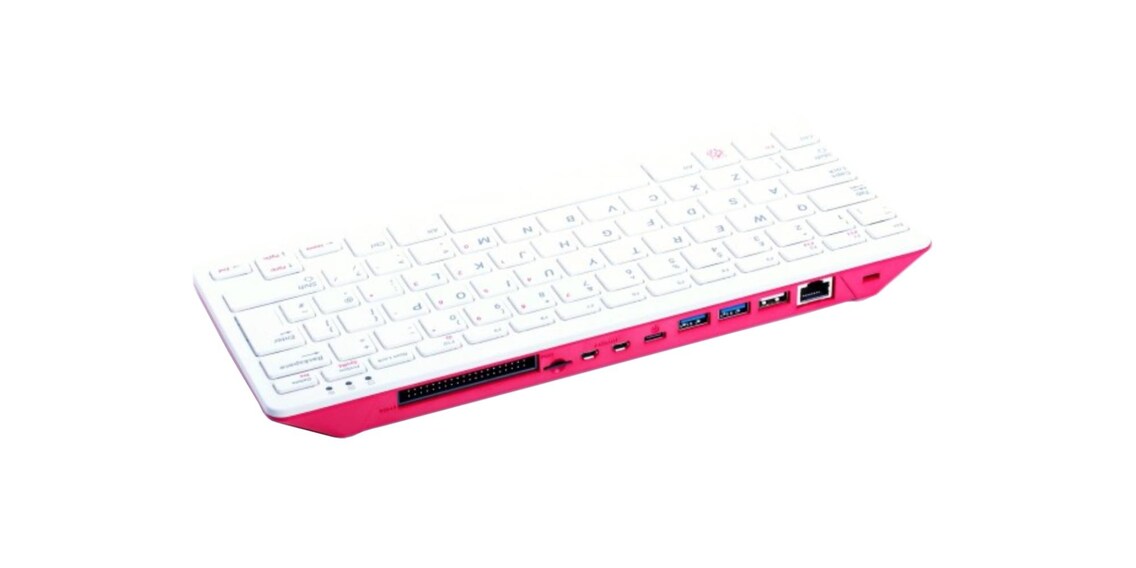 Raspberry Pi 400 – the PC that lives in a keyboard

The Raspberry Pi family is growing. The latest addition is the Raspberry Pi 400, neatly packaged in a keyboard and equipped with a quad-core 64-bit processor, 4 GB of RAM and a wireless network. The small but mighty PC comes in various keyboard layouts – and costs under 100 francs.
Looking at the keyboard, the C64 immediately springs to mind – probably the most famous computer from the 80s. But it's actually the Raspberry Pi 400. It measures a proud 28.6 × 12.2 × 2.3 cm and is a full-fledged PC. Whether you're editing documents, programming or watching movies in 4K, it's faithfully at your side. Due to its versatility, the Raspberry Pi appeals not only to hobbyists and professional programmers, but can also be a stepping stone for children into the world of programming and coding. Sounds like a sensible gift to place under the Christmas tree.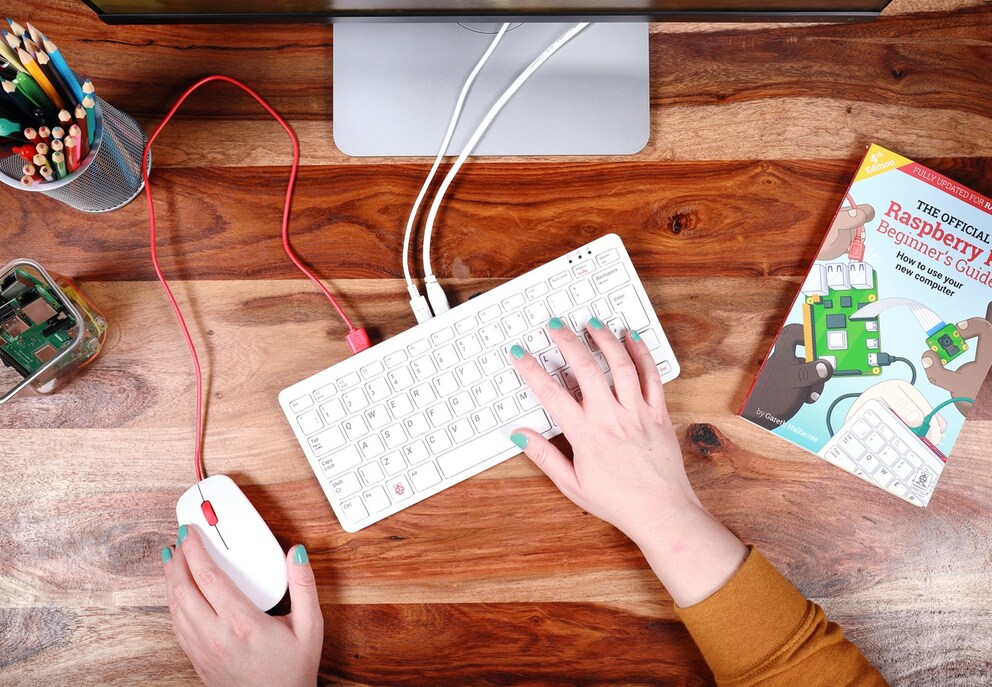 The Raspberry Pi 400 is available in various language layouts. If you already have the necessary accessories at home, you can get it as a standalone item. If not, the complete starter kit comes with all you need. In addition to the Rasberry Pi 400, the starter kit includes the official «Raspberry Pi Beginner's Guide» in the matching language, a mouse, a USB-C power cable, a 1 m micro HDMI-to-HDMI cable, and a 16 GB SD card, where the Raspberry Pi OS operating system is pre-installed.
You can use your Raspberry Pi for just about anything; for simple web browsing, viewing photos and videos, creating documents or for programming on the Raspberry Pi OS operating system. The possibilities are endless!
Fact & figures
Processor: Broadcom BCM2711 quad-core Cortex-A72 (ARM v8) 64-bit SoC at 1.8 GHz
RAM: 4 GB LPDDR4-3200
Connectivity: Dual-band (2.4 GHz and 5.0 GHz) IEEE 802.11b/g/n/ac WLAN, Bluetooth 5.0, BLE, Gigabit Ethernet
Multimedia: H.265 (4Kp60 decode); H.264 (1080p60 decode, 1080p30 encode); OpenGL ES 3.0 graphics, VideoCore VI graphics (OpenGL ES 3.1, Vulkan)
Ports:

USB-C for power supply, supports 5V 3A operation
2 × USB 3.0
1 × USB 2.0
2 × micro HDMI (1 × 4Kp60 or 2 × 4Kp30) for video and sound
MicroSD card slot for operating system and data storage
Raspberry Pi-compatible, horizontal 40-pin GPIO header
Kensington lock
Further keyboard layouts in various languages
Currently, we don't have the FR and IT versions immediately in stock. As soon as this changes, the availability indicator will also change to green. We expect to have the language versions DE, FR and It on offer in the course of December. Other regional variants, such as the US and UK versions, are currently difficult to obtain.
Check out the whole Raspberry Pi range here.
---

Passionate about football – beer in hand after a win. Love cycling and am a dedicated dog-lover. I speak my mind, love interacting with others and am always excited to learn new things.
---
---
---
These articles might also interest you
Skeleton Loader

Skeleton Loader

Skeleton Loader

Skeleton Loader

Skeleton Loader

Skeleton Loader