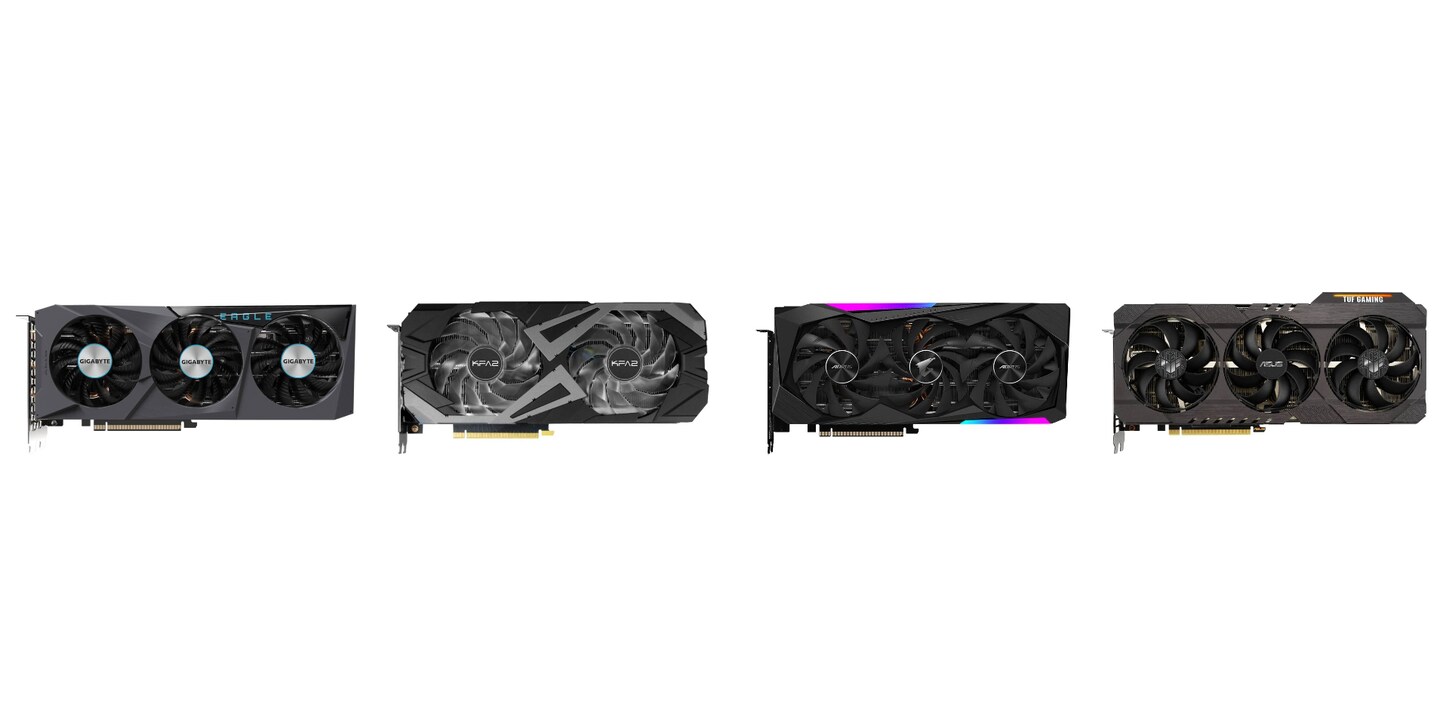 Radeon and GeForce graphics cards have reached our warehouse – how the process works

Good news! On Friday, 26 March 2021, we startet selling the graphics cards we have in stock. Find out exactly which models we're stocking and how the sale will proceed here.
For the sake of clarity I have created a new page, you can follow the informations here:
PromotionComputing

We actually have some Radeon & GeForce graphics cards in stock! Find out how to get them
What, how, where?
We're specifically talking about cards from the following series: RTX 3060, RTX 3070, RTX 3090, Radeon RX 6900 XT.
The sale will officially start on Friday 26 March 2021 at 12:00 p.m. Then I'll set the popular Nvidia GeForce graphics cards live, starting with the high-end RTX 3090 model. In the following week, we will offer the other series. I'll update this article with the necessary information for the next window after each stage.
As always, we're still following the «one card per customer per series» principle. The sale will end as soon as the available models are sold out. We'll need a few days between receiving the order and shipping the graphics cards to manually review the orders received. We will cancel any duplicate or multiple orders without comment and want to make sure that we only serve «real» gamers whenever possible and that no miners or scalpers get a chance.
Next sale – May 12, 2021 at 1:00 p.m.
As with the last sale, the graphics cards will go live a few hours beforehand, so you can compare the different models. The following series are offered:
RTX 3090
RTX 3070
RTX 3060
RX 6900 XT
RX 5700 XT
RX 5600 XT
RTX 2060
GTX 1660 Super + GTX 1650
Some models will be very popular, which can then unfortunately lead to certain overselling. We ask for your understanding. Please note that the sales launch of the graphics cards starts on 12 May 2021 at 13:00 and not on 18 May as stated on the product. Until this date, the graphics cards will be held back for a few days, checked and if everything is in order, you should be automatically informed about the shipment of your order.
The offer is only valid while stocks last. With this in mind, good luck getting your hands on one.
FAQ on the sale of graphics cards
I know it's a lot of text, but please read through the FAQ to avoid any possible misunderstandings.
Which graphics cards will be offered? The following series will go first:
RTX 3060
RTX 3070
RTX 3090
Radeon RX 6900 XT
Who may order a graphics card? Real people located in Switzerland and Liechtenstein. Explicitly, one copy from the respective series may be purchased per person and residence.
Where can I find the available cards? You can find graphics cards in the «PC Components» category under the «Graphics Cards» product type. But the easiest place to find them is right here on this marketing page, this way you'll see which one is available.
Can I order more than one card? No. One card per customer and series. Multiple and double orders, as well as orders from scalpers will be cancelled without comment. However, ordering an RTX 3070 and an RTX 3090 at the same time will be possible.
Why are the graphics cards limited to one piece per customer and series? In fairness to all our customers, we limit the maximum number of items per person.
Can I pick up the graphics card in person? Again, no. Pickup in our stores isn't possible, these cards will be exclusively shipped.
When will my graphics card be delivered? We'll need several days to clean up all multiple and duplicate orders. The graphics cards will be shipped a few days after your order. You can check the status of your current order at https://www.digitec.ch/en/Order.
In what order will deliveries occur? It's first come, first served. An order will be processed as soon as it comes in.
How many cards are offered for sale in total? We have about 1,500 graphics cards in stock.
*Why isn't there an RTX 3080? The RTX 3080 is barely available, and there are still some customers who have been waiting for it since release. Which is why we offer popular cards to our waiting customers without backorders.
When will the quantity sell out? Quantities per model are limited in each case. If the counter has expired, the available quantity is sold out. If the rush for individual models is too great, the counter may not keep up.
Why don't you just raffle off purchases for the graphic cards? We've responded to wishes from the community and tried to raffle the Radeon RX 6900 XT. However, after our experience with this difficult procedure, we decided not to do it again for the time being.
Is your pre-order status «Unknown»?
My order is still «uknown», and I've been waiting for my graphics card for quite some time. Yes, it's annoying and tedious to wait so long for a graphics card. I completely understand your frustration, as I myself have been waiting for mine for over 4 months. We will continue to offer alternatives via email. We try to offer the best deal possible, regardless of make or model – but we stick to the same series. So you can wait for your current order to be delivered or you can switch to an available graphics card from the same series. If you get a graphics card from the same series, you will have to give up your existing order. You can, of course, have one card from each series.
My personal statement
I know the feeling all too well: hardware launches in the PC component sector are horrendous. But a few months ago no one would've thought that it could take over five months or more. In addition to the poor availability worldwide, prices also rose enormously. The situation is annoying and troublesome for all of us. I, too, am waiting on my long-anticipated Radeon RX 6800 XT. For better or worse, your winter 2020 PC will become a summer 2021 PC. Experience from past releases has shown that we unfortunately cannot please everyone and the current situation isn't at all in our favour. We know that this isn't going to get any better any time soon, and we expect a few more tough months in the PC components sector. When availability will improve is still unknown. We also made some mistakes and learned quite a bit from them. I really appreciate the feedback from our community. Let us hope for brighter days ahead.
---

I've always loved building computers. In the past, as big as possible and covered in LEDs – today, small and quiet. SFF for the win.
---
---
These articles might also interest you
Skeleton Loader

Skeleton Loader

Skeleton Loader

Skeleton Loader

Skeleton Loader

Skeleton Loader