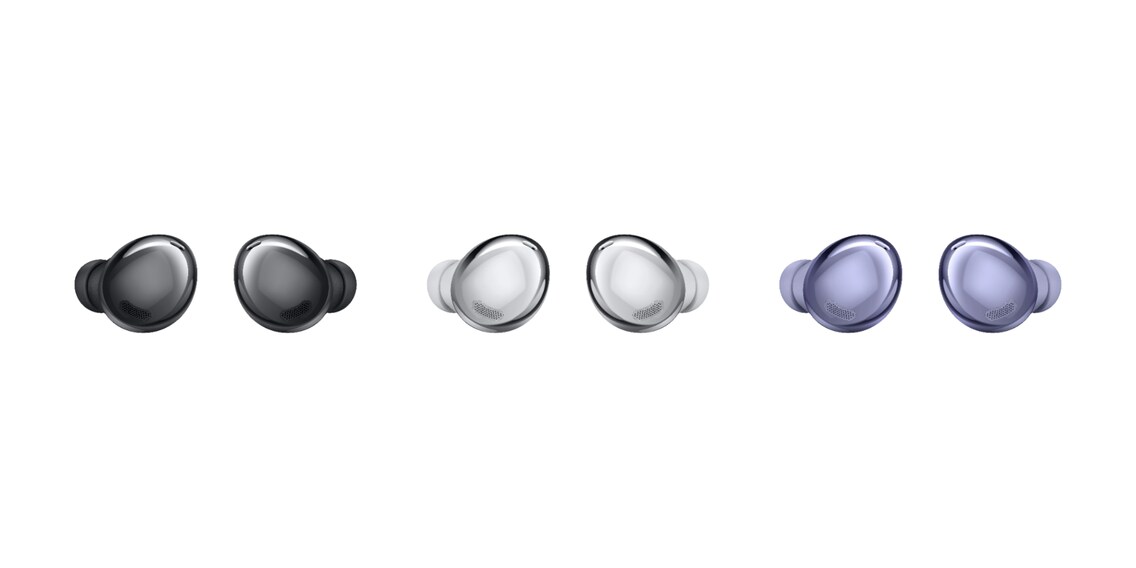 Pre-order now: the new Samsung Galaxy Buds Pro

Samsung introduces Galaxy Buds Pro – the high-end model of its True Wireless product range. The in-ear headphones with active noise cancellation (ANC) are now ready for pre-order. Keep reading to see how they did in comparison to Apple AirPods Pro.
It was probably no accident that a «Pro» was thrown into the name of Samsung's latest model of the Galaxy Buds. After all, this name addition is also used by the competition. Most famously by Apple and its high-end model true wireless headphones. But first, some information about the new Samsung Galaxy Buds Pro, which are available in black, silver and purple to match the new Samsung smartphones.
The most important properties
5-hour battery life with ANC turned on.
Waterproof with IPX7 certification
2 drivers: 11 mm bass and 6.5 mm high frequency driver
3 microphones for high call quality and active noise cancellation (ANC)
360 audio (for smartphones or tablets with OneUI 3.1 or higher)
The logical evolution of the Galaxy Buds+
Improved sound quality, better noise cancelling and new functions. This is what should set the new Galaxy Buds Pro apart from their predecessor Galaxy Buds+. But let's take a closer look.
Like the first Samsung Galaxy Buds, the Galaxy Buds+ launched almost a year ago were in-ear headphones. In other words, the earbud is inserted into your ear. This means that the shape of it alone already does pretty well in cutting out ambient noise. It's a feature that is sometimes referred to as passive noise cancelling. Galaxy Buds+ were not yet equipped with active noise cancelling (ANC) – a technology that records ambient noise via a built-in mic and then «eliminates» it with a counter-noise. But now, the Galaxy Buds feature just that. Admittedly, this doesn't make them the first Galaxy Buds with ANC, as the Galaxy Buds Live released last summer also have this feature. However, the Galaxy Buds Pro are even better at keeping out outside noise thanks to improved passive noise cancelling.
What they do have in common with their predecessor is their shape. They fit nicely into your ear without any large part of the headphones sticking out. The Galaxy Buds Pro also have a 2-way speaker with an 11 mm woofer and a 6.5 mm tweeter. According to the manufacturer, the sound quality of the new speakers has improved significantly compared to the Galaxy Buds+.
The Galaxy Buds Pro also feature a built-in voice detect function. What this function does is automatically turn down the music when it detects that the wearer's starting a conversation. At the same time, a mic on the headphones records the other person's voice and plays it back in real time. This allows you to better understand that person even with the headphones in your ear. In my experience, however, you're more likely to confuse the person you're talking to and possibly come across as rude if you don't remove the headphones from your ear. Maybe this will change in a few years time when everyone's walking around with headphones in their ears.
A first comparison
With the Galaxy Buds Pro, Samsung is targeting the same customers as Apple with its AirPods Pro. As I haven't yet been able to test both models, I'm afraid I can't comment on the quality of the two, let alone compare them or draw a conclusion. However, the specs available so far can already be compared.
Samsung Galaxy Buds Pro
Apple Airpods Pro
Battery runtime
- 5h with ANC
- 8h without ANC
- 4.5h with ANC
- 5h without ANC
Bluetooth connection
- Bluetooth 5.0
- Codes still unknown
- Bluetooth 5.0
- AAC
Microphones
3
2
Speakers
- 1x 6.5 mm high-frequency driver
- 1x 11 mm bass driver
unknown
Protection type
Waterproof (IPX7 certified)
Splashproof (IPX4 certified)
Weight
6.3 g per earbud
5.4 g per earbud
A detailed test by our editorial team will follow at a later date.
More new arrivals by Samsung
New to our rangeSmartphone

The new Samsung Galaxy S21: pre-order here and get a reward
Never miss news or special offers again!
You're an audiophile or interested in the latest trends and promotions from our range of headphones, Bluetooth speakers, multi-room systems or DJ and Hi-Fi accessories? Then follow my profile.
---



Round, egg-shaped or a shuttle, I love chasing after anything if it's part of a competitive sport. Old and new vehicles with powerful engines make my heart beat faster – and so does my own little smart home. I never leave the house without headphones and luckily, I have quite a few to choose from. 
---
---
---
These articles might also interest you
Skeleton Loader

Skeleton Loader

Skeleton Loader

Skeleton Loader

Skeleton Loader

Skeleton Loader