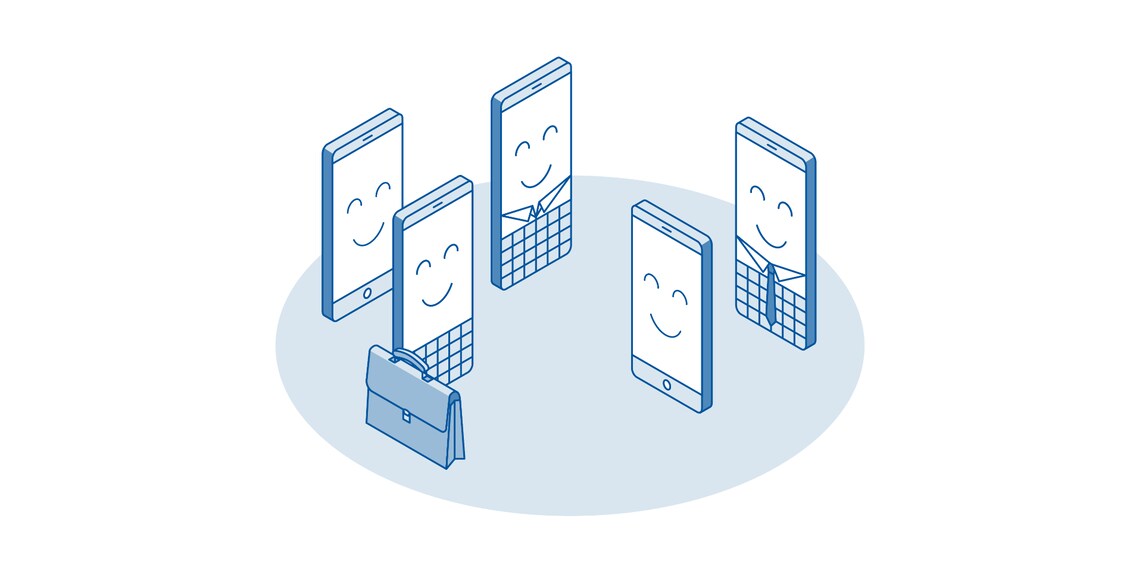 Our digitec connect mobile subscription for business customers
From company connections to employee benefits: as a business customer, you can enjoy particularly attractive conditions with our digitec connect mobile subscription.
For the second time in a row and in spite of fierce competition, digitec connect ranked second in the category of mobile service providers for private customers. See the full ranking, carried out by the Swiss economic magazine BILANZ, here (in German). And digitec connect also offers interesting deals for companies, associations and organisations.
One subscription, two options
Our digitec connect mobile subscription offers two options for business customers: the business connection model and the employee benefit model. The latter gives your employees access to attractive conditions for their private mobile phone subscriptions. Of course, the company connection and employee benefit models are also combinable.
What does the subscription offer?
3 GB of national data per month with 1 GB of roaming data in the EU/USA included
Unlimited calls and SMS/MMS to all Swiss networks (excl. value-added services)
No minimum contract duration or activation fees
On the Sunrise network
Base fee of CHF 25.– per month. Starting at 7 GB, you unlock a national data flat rate of CHF 49.–
5G option for CHF 5.– per device and month.
5G option for CHF 8.– per month
Business conditions on request under connect.b2b@digitec.ch
For more information, go to connect.digitec.ch
Business connections
With the business connections, your company owns the phone numbers and settle the bills on a monthly basis – quickly and easily by credit card or invoice. A personal dashboard makes managing the business connections a straightforward matter as it offers:
Full cost control over all digitec connect business connections
Access to all current and past statements
Easy transfer of existing numbers (individual or collective transfer)
No activation fee when ordering new phone numbers
Cost-efficient cancelling (no minimum contract duration)
Employee benefit model
With the employee benefit model (or fringe benefit model), your company's employees get to enjoy particularly favourable conditions. In addition to the benefits we offer all companies, the employee benefit model also applies the Family + Friends logic. This means that not only your employees or members benefit from the discounted conditions, but also their family members and friends.
With the fringe benefit model, the employees own their phone number. In the digitec connect dashboard, they can independently manage and pay for their subscription, which means minimal expenses for the company. All the company is in charge of is managing employee entries and departures – all of which is done in just a few clicks. This employee perk genuinely benefits employees and is an easy way to position your company as an attractive employer at no great expense.
Get in touch to get started!
As mentioned above, it's not just SMEs and corporations that qualify as business customers. Associations, universities, networks, municipalities, etc. can benefit from our business conditions. Get in touch with our digitec connect B2B team today at connect.b2b@digitec.ch.
---
At Digitec Galaxus, I support our corporate customers in all aspects of collaboration and peripherals. This also includes our in-house mobile phone subscription digitec connect. I spend my free time traveling, cooking, and playing sports - preferably ball sports. 
---
---
---
These articles might also interest you
Skeleton Loader

Skeleton Loader

Skeleton Loader

Skeleton Loader

Skeleton Loader

Skeleton Loader