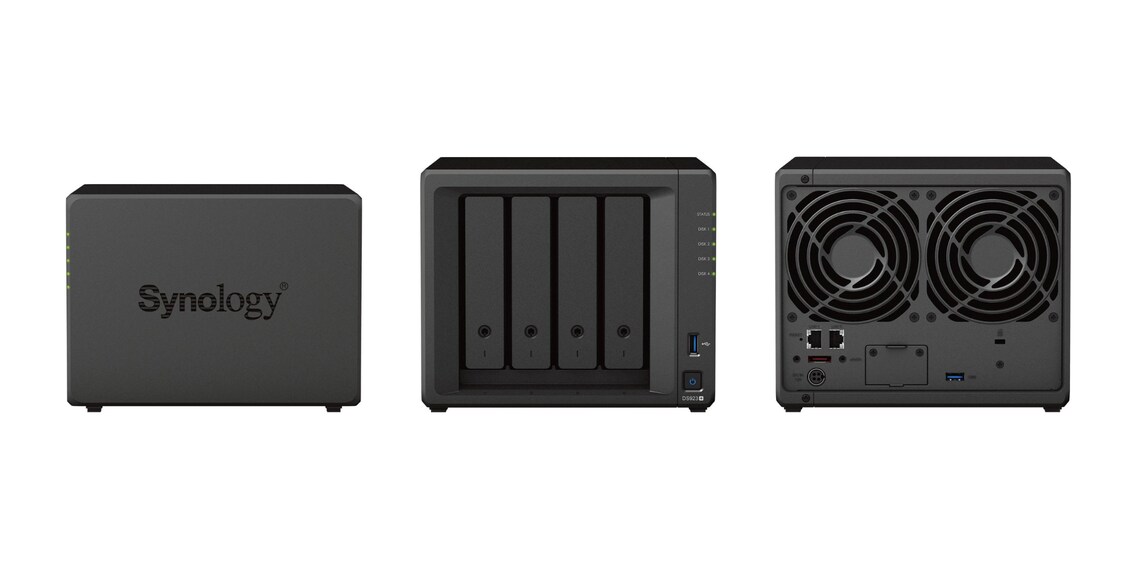 Now available from us: The new NAS DS923+ from Synology

Translation:
machine translated
The new 4-bay DiskStation DS923+ from Synology is here. It is the successor to the popular DS920+ and is ideal as a flexible storage platform for small businesses and home offices, among others.
The new DS923+
The Synology DS923+ is a powerful 4-bay NAS solution that offers over 50TB of capacity so you can store all your data in one central location. It can be customised and expanded as needed, with support for up to nine drives, faster networking, and NVMe SSDs for SSD caching or additional storage pools.
Differences from its predecessor
For the DS923+, Synology now relies on the AMD Ryzen R1600 dual-core processor (4 threads), which enables a boost clock of up to 3.1 GHz. It is also equipped with 4 GB DDR4 ECC SODIMM and newly expandable up to 32 GB RAM.
Further information
The technical datasheet can be found on our product page for download and on the Synology page for full specifications, features, and typical uses and examples.
Accessories
Do you need more storage space?
Expand the capacity of the DS923+ with the DX517 by 5 bays to a maximum of 9 storage drives and to over 120TB. So your business is prepared for further data growth.
Memory
A compatible RAM bar to upgrade the DS923+:
Hard drives
Integrated with the Synology operating system are their own hard drives:
Of course, hard drives from WD, Seagate or Toshiba will also fit. Here you can find all NAS hard drives.
More speed with SSD cache
To increase the write speed of your NAS, you can either replace your hard disk drives (HDDs) with SSDs or use the extra M.2-2280 slots to increase the cache.
All about it in this report:
Synology offers its own SSDs designed specifically for Synology NAS:
Here's another page on Synology network storage:
And here's where to find all Network Storage and related accessories from Synology.
Customized offers for your company
You need a larger quantity and want a quote? Then you can find all the necessary information here. Enquiries about product advice, project support and other requests can be made via our Helpcenter.
---



I support our corporate client business in various subject areas. I find balance in nature while hiking, at good blues & rock concerts - and of course by browsing our online shop.
---
---
---
These articles might also interest you