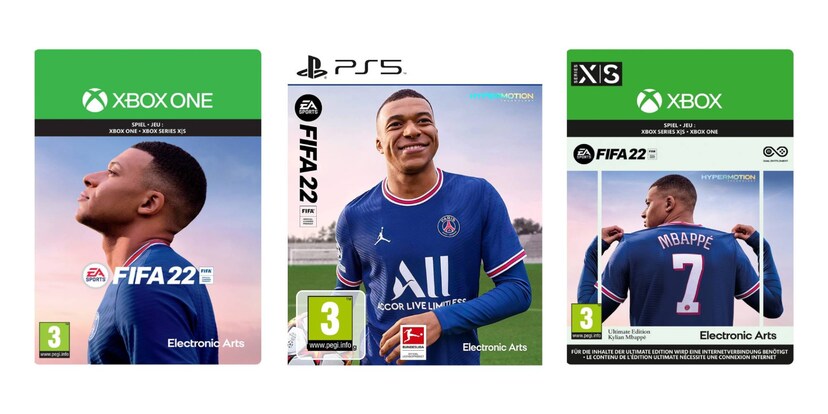 It's kickoff for FIFA 22! Order for release on October 1
Back to football once more: in a few days, we'll all be headed down to the virtual pitch in FIFA 22. The new FIFA will be released on October 1 for next- and last-gen game consoles, as well as for Stadia and PC. Find out what changes the game delivers here.
Just in time for the coming weekend, the new FIFA 22 will be released. As with last year's version, French player «Kylian Mbappé» from Paris Saint-Germain has made it onto the new cover again. Apart from the cover, a lot has changed in terms of gameplay – especially for all next-gen game consoles. Probably the most popular mode, «Ultimate Team», has been completely renewed and now offers you more possibilities on and around the pitch, as you can read about below.
FIFA 22
You know what to expect? Heard of the new features, or do you simply not care about them? As a die-hard FIFA fan, there's no getting around the new version anyway. Voilà, it's the classic physical box. You can also pick up the game at one of our stores starting October 1.
PlayStation
Xbox
Don't need a game box? You can also download the Xbox versions here.
FIFA Ultimate Team
Your FUT 22 season will be different from FUT 21. The mode has been completely reworked and offers a lot more fun compared to last year's version. From the ranking system to more flexible game options such as the FUT Champions (Weekend League) to Division Rivals, where you compete online with other players at your level. In the new FUT season, EA gives you more customisation options: whether it's the pitch, the flags from fans or the stadium itself – design it the way you want and raise your club (design-wise) to a new level. Get an idea of it yourself by watching this trailer:
For more information on the Ultimate Team changes, check here.
Hyper Motion
To bring next-gen console performance to the next level, EA has combined advanced full-team mocap data and machine learning. EA itself describes the new technology as groundbreaking and promises realistic and even more fluid game dynamics on the pitch thanks to its many algorithms. If you're interested in the topic, you can watch the trailer for it here. Important: to benefit from the new feature, you'll need a next-gen gaming console such as the PS5, Xbox Series X|S, or Stadia. The older Playstations, Xbox, Switch and PC aren't supported.
Pre-order bonus
If you order the standard version of FIFA 22 before October 1, you can benefit from a pre-order bonus. The Nintendo Switch isn't eligible.
This set includes the following bonuses:
Team-of-the-Week Player (FUT)
Mbappé loan card (FUT)
FUT Ambassador Player for hire (FUT)
Homegrown career mode (Career mode)
---

Passionate about football – beer in hand after a win. Love cycling and am a dedicated dog-lover. I speak my mind, love interacting with others and am always excited to learn new things.
---
---
---