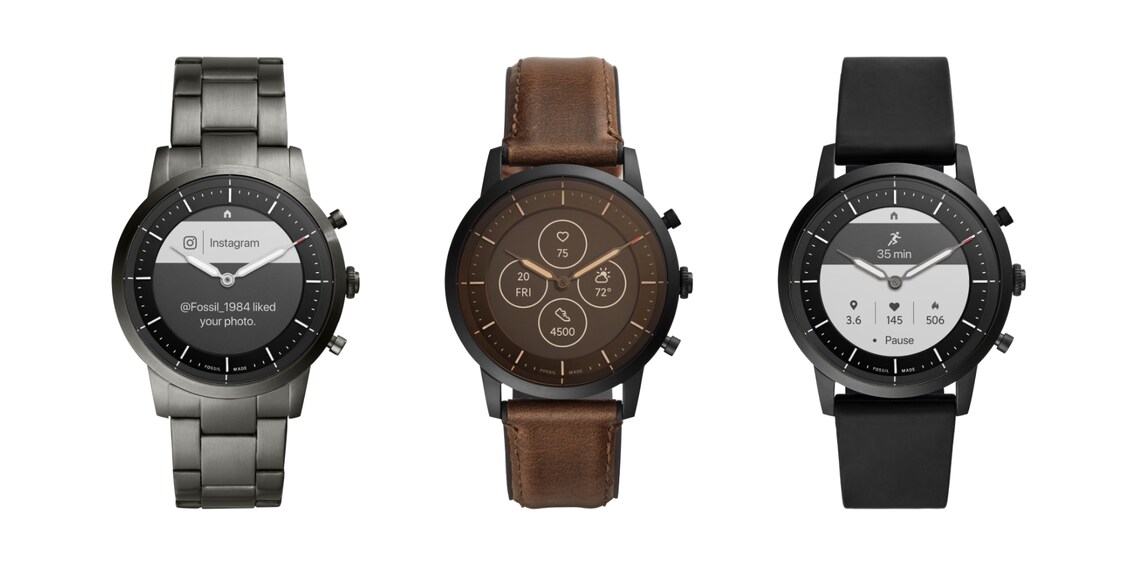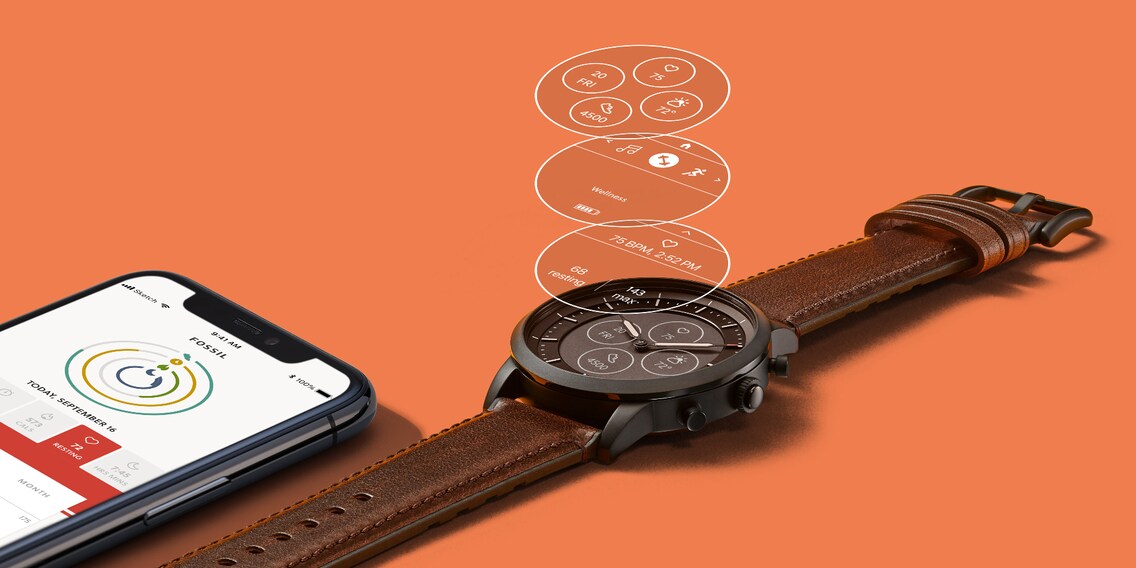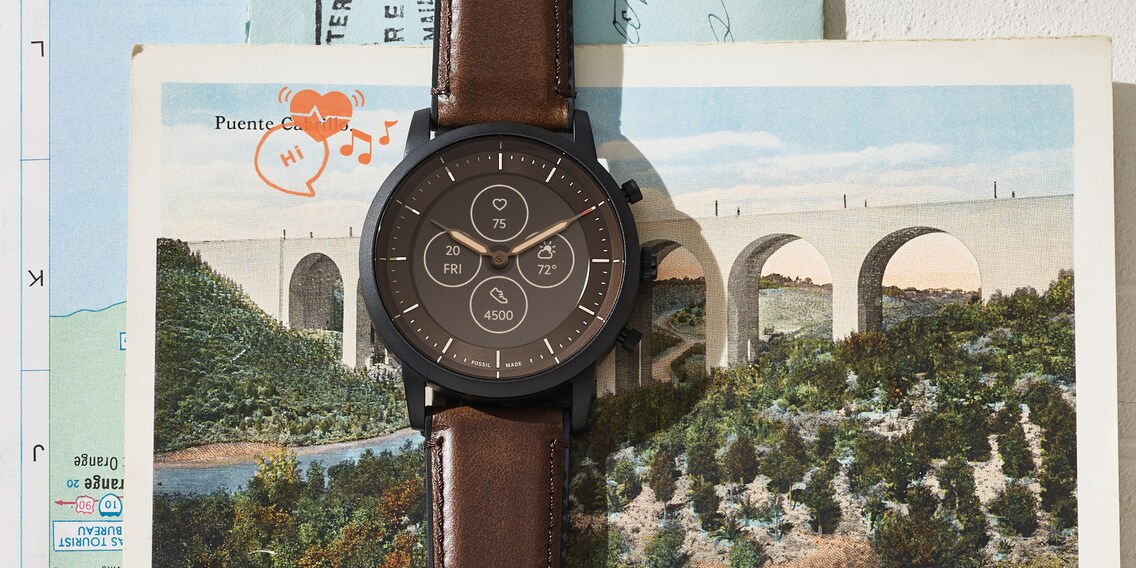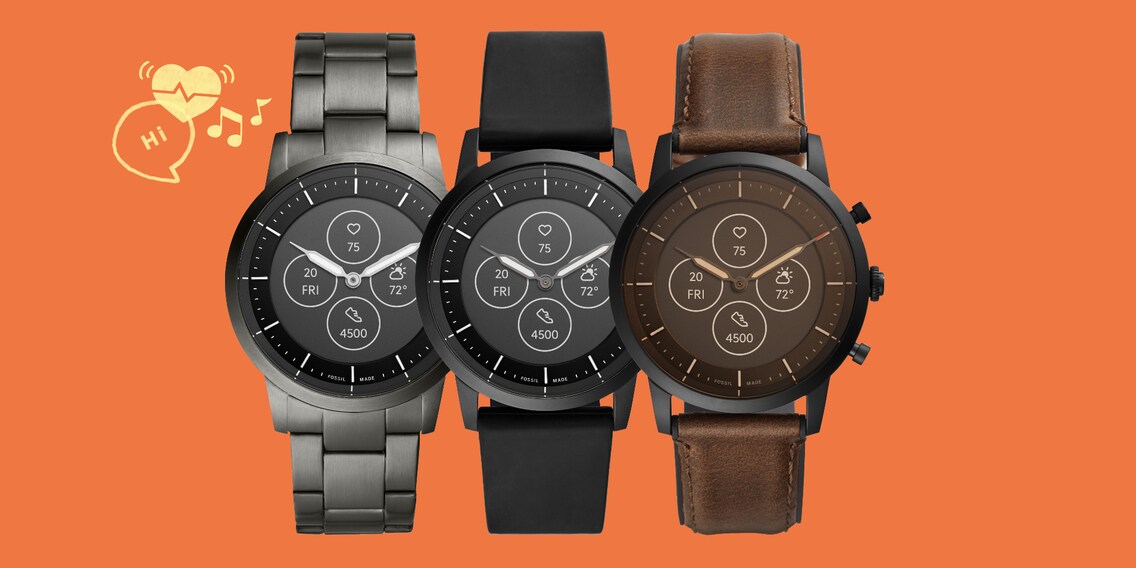 Fossil Collider Hybrid HR – here's what the new E-Ink hybrid smartwatch has in store for you

The Fossil Collider Hybrid HR first saw the light of day at the end of August 2019. After some delays, we now have three models in our range. Read on to find out whether this clever hybrid smartwatch with E-Ink display technology and 2+ weeks of battery life is your cup of tea.
The Fossil Collider Hybrid HR
Hybrid smartwatches combine the stylish appearance and analogue dial of classic watches with the many advanced features of a smartwatch. The best of both worlds colliding – that's exactly where the «Collider» gets its name from. The result: you give your wrist a high-tech upgrade hidden behind a smart-looking smartwatch.
The Collider is available in three versions: as a silicone sports watch, with a leather strap or with stainless steel links. Unfortunately, we're running out of the black models and hope to receive fresh batches at the end of June.
The Collider offers standard users around two weeks of battery life. Heavy users, on the other hand, will have to rejuice after about ten days, and occasional users will only need to charge after up to three weeks. In addition to its innovative design with mechanical watch hands and E-Ink display technology, the Collider Smart boasts notifications, a heart-rate monitor, sleep recording and much more.
Specs and functions
Case diameter: 42mm
Case material: stainless steel
Sensors: heart rate measurement, acceleration measurement
Strap material: leather, stainless steel or silicone (depending on the model)
Replaceable straps: yes, with the standard 22mm straps
Compatibility: Android 5.0/iOS 9.0 and higher
Display technology: E-Ink
Waterproof: up to 30 metre
Battery life: 2+ weeks
Charging time: 100% in 60 minutes
Features: pedometer, smart notifications, sleep recording, calorie consumption measurement, training unit recordings, music controls, find my phone, weather, dual time, alarm clock, timer and stop watch.
Exciting features
E-Ink display technology: E-readers such as the Tolino and Kindle already use the E-Ink technology, which is pleasant to read and consumes very little battery.
Always-On Display: the display of the Collider is always on. Tap twice on the display to briefly activate the backlight in dark environments
Fossil Hybrid smartwatch app: connect your watch with your smartphone using the Android or iOS app. You can share the recorded data with other services such as Google Fit.
Configure the device to suit your taste: chCoose between various display backgrounds and customise the display fields and three buttons as you wish
Clear view of the display: when interacting with the apps or by simply rotating the display towards your face with you wrist, both hands automatically move to 9:15 p.m. to ensure a clear view of the display.
Exercise: during exercise sessions,such as taking a run, the watch tracks basic information including the time, distance, calories and heart rate.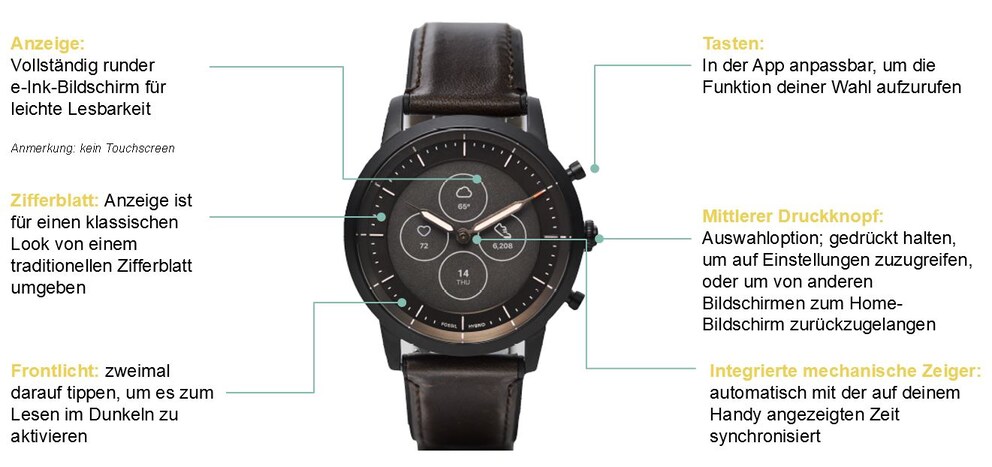 Fancy the Fossil Collider Hybrid HR? Let us know what you think!
Fossil Collider HR Hybrid Smartwatch
What do you think of the new Fossil Hybrid Smartwatch?
Just what I was looking for!
Nice, but only classic watches go on my wrist.
Not «smart» enough for my taste...
Not «athletic» enough for my taste...
I'd be up for trying a Hybrid Smartwatch.
The competition has ended.
Matching accessories
If you feel like mixing things up a bit and wearing a different strap, you can simply pick and match from our range of 22mm straps.
We also have the matching spare charger cables in store:
The entire Fossil Group smartwatch range
Still prefer a smartwatch with a wider range of features (making payments, music storage, GPS, etc.)? Make sure to check out these other Fossil models.
By the way, the following other brands of the Fossil Group also have some exciting and stylish models on offer:
Want more? Follow me!
Interested in wearables and mobile accessories? Don't miss any more news and promotions in the future. Log into your account and click «Follow author» on my profile.
---



A day without doing sports and enjoying music is a wasted day. I'm a passionate triathlete who never leaves the house without headphones and smartwatch. To me, keeping up with the digitalisation of everyday life means constantly trying out new devices and always being curious. 
---
---
---
---
These articles might also interest you
Skeleton Loader

Skeleton Loader

Skeleton Loader

Skeleton Loader

Skeleton Loader

Skeleton Loader