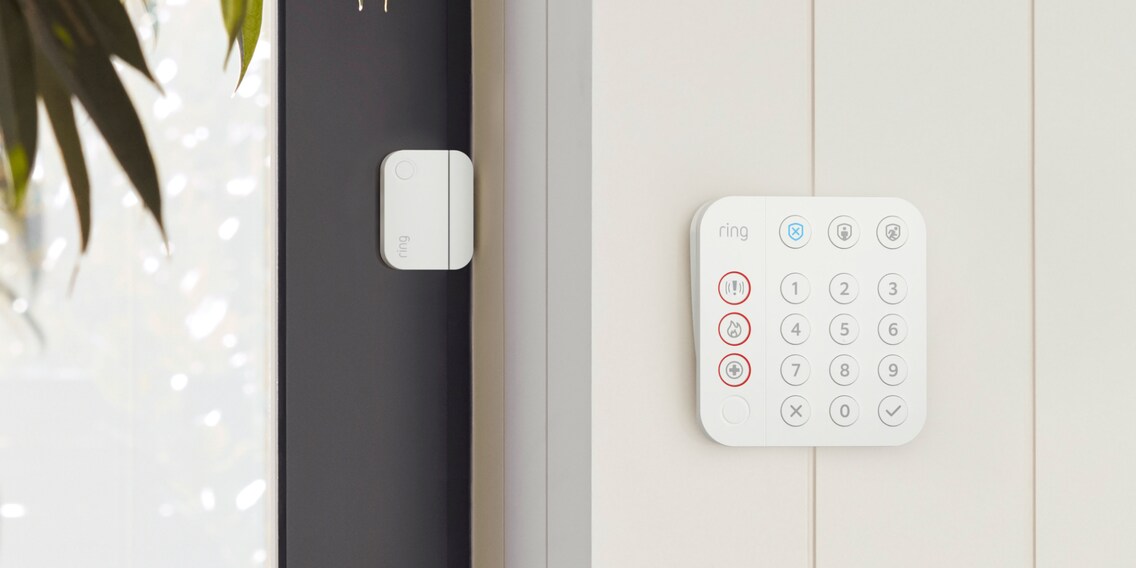 For a safe home: 2nd generation Ring Alarm
According to the manufacturer, the second generation of the Ring Alarm is smaller, sports a new look and allows for easier control of the alarm via the keypad. The new version of the alarm system works with all other Ring products and can be installed by yourself.
Ring Alarm is a flexible alarm system that you can expand and customise according to your needs – as long as you have the Starter Set, which contains the necessary base station, the keypad for operation, a motion detector, a door/window contact and a signal amplifier.
In the following video, you'll see the functions of the individual parts and other possibilities the Ring alarm systems offer.
2nd generation vs. 1st generation
One of the most noticeable improvements of the 2nd generation Ring Alarm is the revision of the door and window contact. It's more compact and less noticeable on your windows and doors. In addition, it features a revised keypad and, according to the manufacturer, new buttons to activate the alarm and monitoring function. According to Ring, new panic buttons have been added to the keypad, which you can use to notify others in the case of an emergency.
Installation and control
Unlike most conventional alarm systems, the Ring Alarm is made for self-installation. As the manufacturer states, everything you need is included. All you have to do is connect the base station to the power supply, activate the system via the Ring app and place accessories such as motion detectors and window contacts where they belong. The Ring app then gives you full control over your home. As soon as someone enters the room or opens a window, you're notified in real time via your smartphone and the alarm is triggered. If you leave the house without turning the alarm on or off, you can also do so from anywhere via the app.
New and revised accessories
To expand your alarm system, the 2nd generation products are also available individually. For example, you can purchase additional window contacts or additional motion detectors and integrate them into your alarm system.
The system can be expanded with all Ring products to create the security system you want. Want to integrate your video doorbell, your security camera or the new Video Doorbell 4? No problem! For more information on the Video Doorbell, check out this article:
---
When I'm not working on my DIY projects, I'm probably chasing after a small, fast ball on a tennis court or in a gym hall. Once I've let off enough steam, I love soaking up the sun and discovering the wide world.
---
---
---
These articles might also interest you
Skeleton Loader

Skeleton Loader

Skeleton Loader

Skeleton Loader

Skeleton Loader

Skeleton Loader