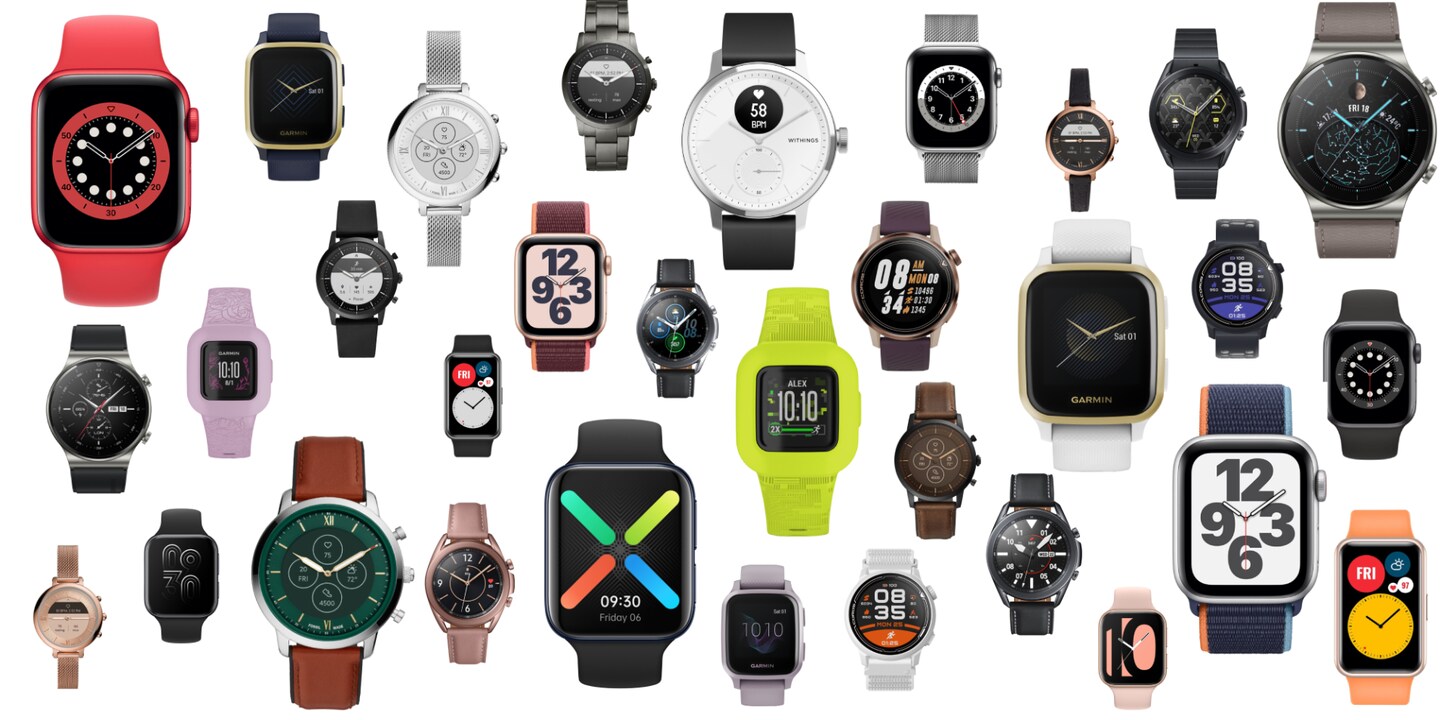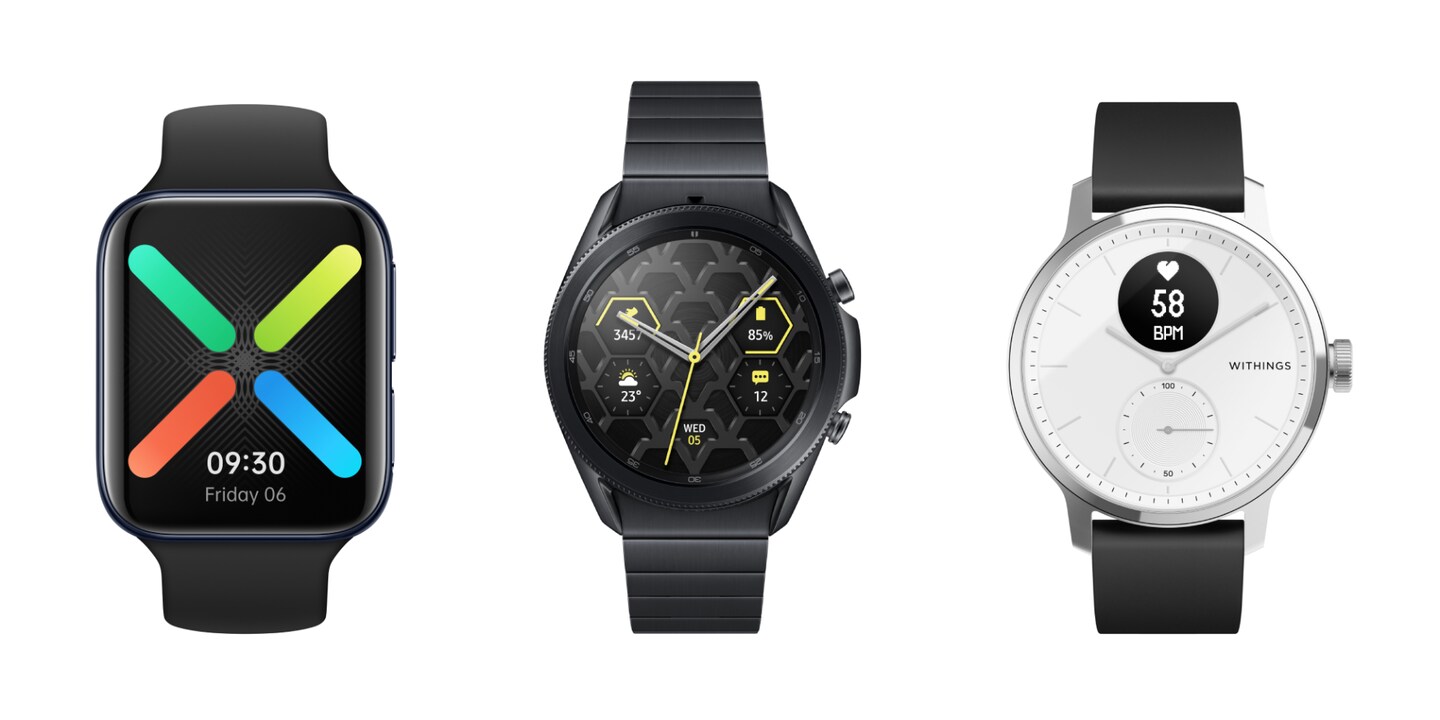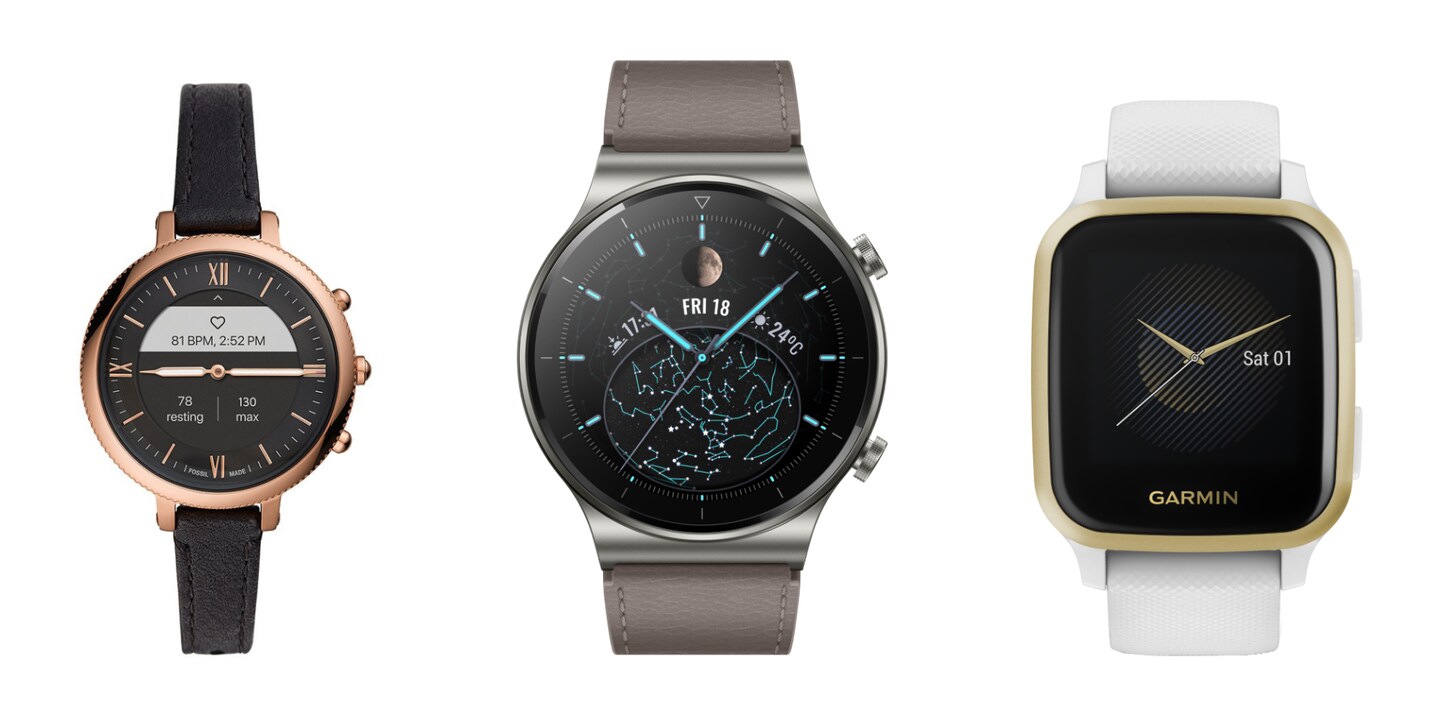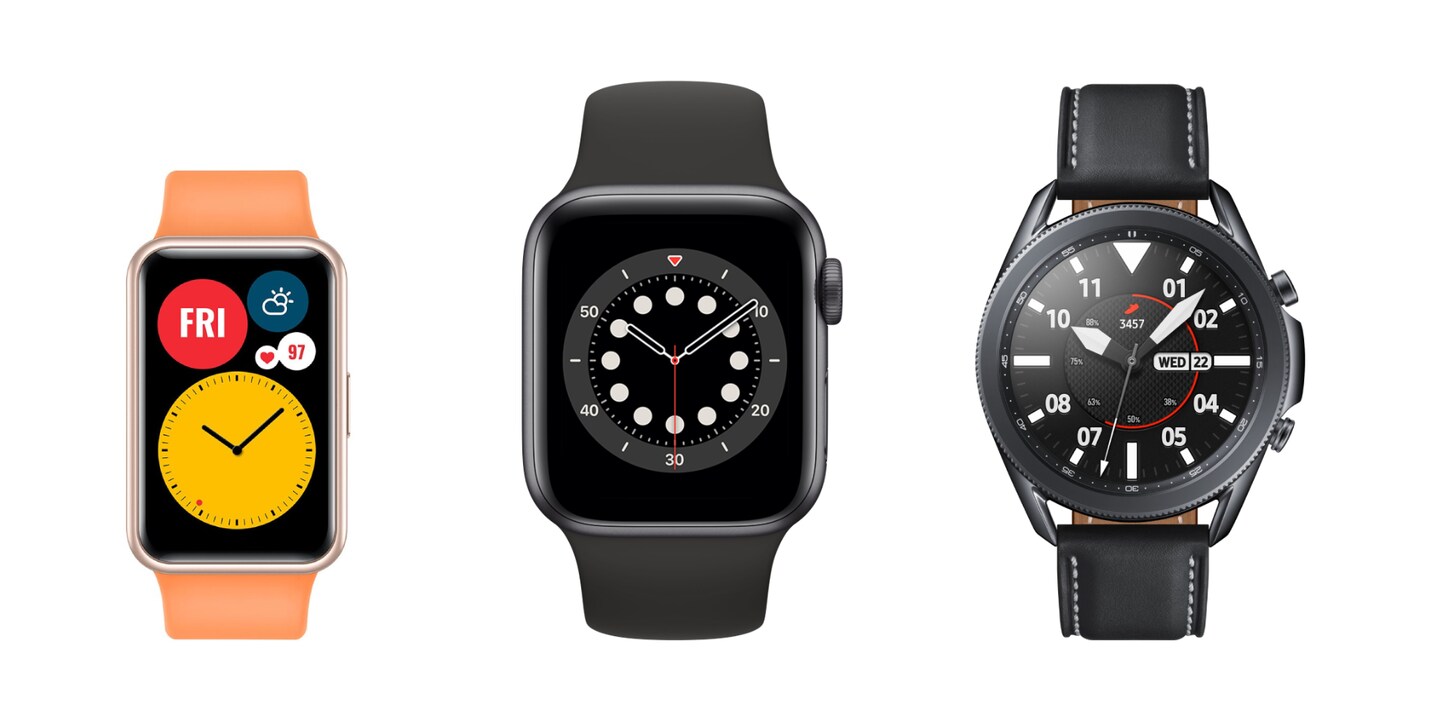 Discover the latest smartwatches on the market

Here come the latest offerings from Apple, Samsung, Huawei, Withings, Oppo, Fossil, Coros and Garmin. You'll also get information about our digitec connect mobile subscription and the MultiSIM option for smartwatches.
Virtually no other tech product family is growing as fast as smartwatches right now. Just six years ago, the category was practically non-existent and often dismissed. Since then, though, each year has brought with it breakthroughs, innovations and new functions. Health features (ECG, measuring blood oxygen levels, etc.) are increasingly coming to the fore, battery lives are being optimised (e.g. solar-powered and hybrid smartwatches) and there are now watches specially designed for children and older people. The housing is increasingly conforming to square phone designs for easy operation. And smartwatches are increasingly used to make calls, e.g. via our digitec connect mobile subscription with a MultiSIM option.
All of these developments make for more choice than ever before. You've come to the right place for an overview of the latest models, some of which we've already tested out for you.
Apple
Every autumn, the tech company from Silicon Valley presents new Apple Watch products. The Series 6 boasts various health functions (ECG, measuring blood oxygen levels, etc.), a fast processor, more 4G/LTE models and an optimised display. The cheaper Watch SE is also a good entry-level model. It doesn't have an always-on display or an ECG function and offers slightly lower performance, but other than that, the range of functions leaves little to be desired. We have over 100 Apple Watches for you to choose from.
Samsung
We've had to wait two years for the new flagship Samsung product. Like its predecessor, it comes both with and without 4G/LTE. A generous 8 GB of internal storage, a Super AMOLED display, a classic wristwatch look thanks to the leather strap and a rotating bezel all vie for your attention. The watch is also available in stylish titanium.
Huawei
The Watch GT 2 Pro comprises a titanium housing, sapphire glass and a leather strap. With up to two weeks' battery life, you won't have to constantly charge it either. 100+ sports modes, Bluetooth calls and other functions will keep you busy. As an introductory offer, the black model still comes with a free smartphone. But you can of course order the watch without the phone.
With the cheaper Huawei Watch Fit, the manufacturer also offers an entry-level model in multiple colours with GPS, 10 days of battery life, smart notifications and numerous sports functions.
Withings
The ScanWatch had hardly come onto the market and there were already delivery delays. The latest health hybrid smartwatch with heart rate monitoring, ECG, blood oxygen level measurement, smart notifications, analogue hands and a month-long battery life is proving extremely popular. We're working hard every day to supply the demand as best we can.
We've also already tested the ScanWatch for you:
Oppo
Until now, Oppo has mainly been known for making smartphones. Its first model is making a strong entrance on the smartwatch market. Oppo Watch runs on Google's Wear OS and is compatible with Android and iOS. It offers an AMOLED display (a dual-curved AMOLED display on the 46 mm version), aluminium frame, touch screen and up to two weeks' battery life. There's also pulse measurement, sleep monitoring, sports functions, personal performance and health statistics.
I found the fast VOCC Flash Charging interesting: the battery is already half full after a good 20 minutes of charging, and a full charge only takes around 75 minutes. This extremely fast charging time gives the watch a clear unique selling point.
Coros
When we included the first Coros models in our range in early 2020, I considered the brand an insider tip. Since then, it has become much better known. «PACE2» takes the entry-level «PACE» model to the next level and offers various sports functions (including triathlon), night mode and almost three weeks of battery life and is astonishingly light (nylon strap 29 g, silicon strap 35 g). The new «APEX Premium» with a titanium bezel from the mid-priced «APEX» range offers an exciting package of functions. Check out the entire Coros range here.
Our sports editor Patrick Bardelli recently took a closer look at the high-end «VERTIX» model:
Fossil
The Fossil brand is primarily known for fashion, but it has been making exciting smartwatches for quite some time. The hybrid «Collider Hybrid HR» model has been very popular with us, not least because of the design, the display technology and over two weeks of battery life. Unlike most other Fossil models, the Collider doesn't run on Google's «Wear OS», but a proprietary operating system.
Our expert Raphael Knecht put the Collider under the microscope for you:
The «Monroe Hybrid HR» models are brand new, with our first delivery scheduled for mid-November at the earliest. The Monroe models are also hybrid smartwatches and have the same functions as the Collider. However, their colours and an only 12 mm-wide strap are clearly aimed at an audience who prefers a more delicate look.
Garmin smartwatches
Anyone who's run a half marathon or taken part in another running event will know that Garmin watches are extremely popular with athletes. Some new solar models can be charged via solar panels in the watch glass.
Check out our test of the Solar:
If you're looking for something a bit more urban and «smarter», the Venu Sq with its touch screen, sports functions and six-day battery life is worth a closer look. The Venu Sq Music models also offer 4 GB of music storage, which equates to around 500 songs.
Garmin pulse belt
If accurate training is important to you, check out the new Garmin pulse belt. The belt can be connected to most Garmin smartwatches. And it can be lengthened with the extender.
Garmin smartwatches for children
There's an ever-increasing choice of smartwatches for young users too. The newest offering from Garmin is the vívofit jr. 3. It's available in seven different colours and patterns and it's so new that we don't even have all models in stock.
MultiSIM option with digitec connect
Now you can also use your smartwatch with a digitec connect mobile subscription, as long as it's a 4G/LTE model.
Not sure if MultiSIM is right for you? Then simply try it out. Your first MultiSIM option is free for the first year. Find out more here:
Want more? Subscribe to my articles!
Interested in wearables and phone accessories? Don't miss any more news and promotions. Just follow this link and click «Follow author».
---

A day without doing sports and enjoying music is a wasted day. I'm a passionate triathlete who never leaves the house without headphones and smartwatch. To me, keeping up with the digitalisation of everyday life means constantly trying out new devices and always being curious.
---
---
---
These articles might also interest you
Skeleton Loader

Skeleton Loader

Skeleton Loader

Skeleton Loader

Skeleton Loader

Skeleton Loader