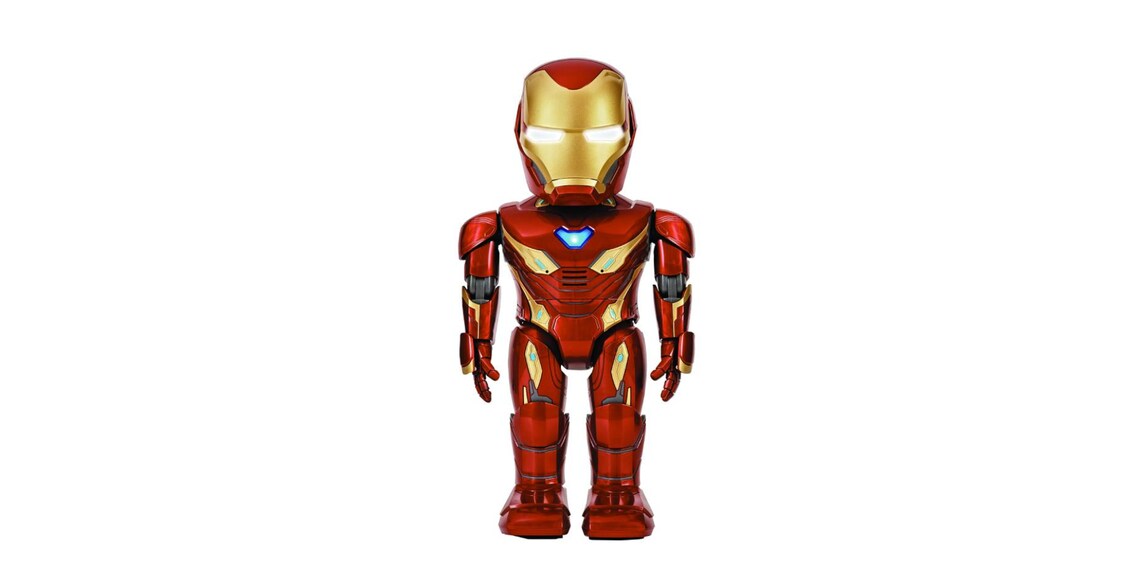 Attention all Marvel fans: order your own «Iron Man» robot now

«Avengers: Endgame». Everyone is anxious to answer the big question: Can the Avengers come back from destruction and defeat Thanos? Or, maybe you don't really care at all about this. Thanks to a collaboration between Marvel and Ubtech, you can write your own end to this story with the new «Iron Man» robot.
Careful, there be spoilers ahead. Along with the «Ironman MK50», a new product destined to fulfil all your childhood dreams. A humanoid robot who doesn't just walk and talk, but can also fight for you or perform chores – all depending on how you program and control it. Thanks to a fascinating combination of robotics, augmented reality and superpower customisation, your new companion will really make you feel like Tony Stark.
What does it actually do?
33×16.5 cm in size, red as flame and powerful as can be (almost sounds like me). This one-kilogram absolute unit and its accompanying augmented reality game are clearly inspired by Marvel canon. You'll immediately notice this when first putting your «Iron Man» on the tracking pad to simulate a battlefield from the Avengers and sending it on important missions. With each level you gain, your arsenal and equipment improve, immersing you more and more into the world of the Avengers. You control its movement, sound and lights with a free phone app, available on both iOS and Android.
It's what's on the inside that counts: customisation
Ubtech has included an interesting feature for a personal touch. «Iron Man» can simulate your real face, simply upload some videos of yourself. To improve this effect even more, you can also give the robot your voice. You are now a superhero.
The technology for «Iron Man» comes from Ubtech Robotics, a leading provider in the field of intelligent humanoid robotics and AI technology. They offer a whole horde of robots and build sets, in case you and your kids haven't had enough.
Already seen «Avengers: Endgame»? If yes, then relive that experience with your very own «Iron Man» robot! If not, then it'll only get you even more excited for the movie. Oh yeah, don't forget the popcorn.
---

Passionate about football – beer in hand after a win. Love cycling and am a dedicated dog-lover. I speak my mind, love interacting with others and am always excited to learn new things.
---
---
---
These articles might also interest you
Skeleton Loader

Skeleton Loader

Skeleton Loader

Skeleton Loader

Skeleton Loader

Skeleton Loader