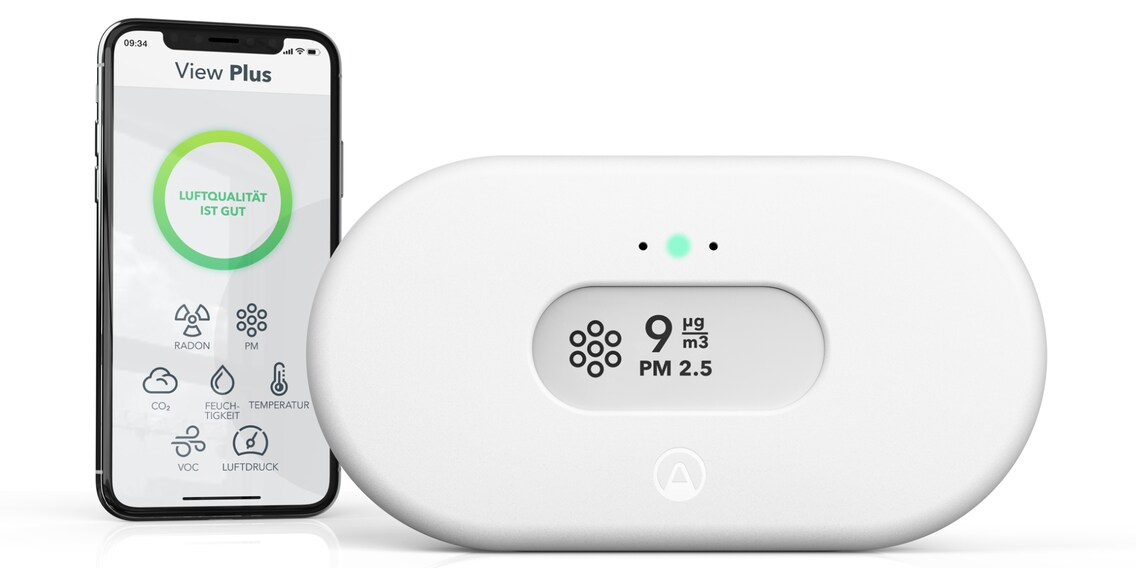 Airthings View Plus – the smart air quality monitor
In addition to the popular Wave series, Airthings has now launched the View Plus, which is available for pre-order. Shipping begins in September 2021.
Unlike the Wave series, the Airthings View Plus features a customisable display that shows the air quality details. On top of this, the device can be connected to your Wi-Fi, which gives you insight into the air quality of your rooms at any time and from anywhere.
According to the manufacturer, View Plus gives you control over the air pollution in your home at all times. The device shows you pollutant levels such as radon, particulate matter (PM), CO2, airborne chemicals (VOCs), plus important factors such as humidity, temperature and barometric pressure. The Airthings app also shows you the local pollen values in real time and the corresponding forecasts.
Airthings View Plus is powered by batteries or USB connection and, thanks to the Wi-Fi connection, allows you to access your data and the online dashboard with comprehensive reports from anywhere. If you choose to use the USB cable, View Plus also acts as a hub for your other smart Airthings devices. The display View Plus is customisable. Just wave and it shows the pollution details and which levels are too high.
Pre-order the new Airthings View now. The first deliveries will take place from the beginning of September.
---
When I'm not working on my DIY projects, I'm probably chasing after a small, fast ball on a tennis court or in a gym hall. Once I've let off enough steam, I love soaking up the sun and discovering the wide world.
---
---
---
---
---
These articles might also interest you
Skeleton Loader

Skeleton Loader

Skeleton Loader

Skeleton Loader

Skeleton Loader

Skeleton Loader